Use the Brother device's Secure Function Lock feature to limit excessive printing and prevent users from accessing certain machine functions.
When Secure Function Lock is on, only authorized users can access the device's unlocked functions by either providing a unique password or using a personal NFC card (supported models only).
Available Functions*
Fax RX (Fax Receiving) (Restrict printing of received fax to specific users)
Scan to USB (USB Direct Scan)
* To confirm the functions available on your Brother device, activate Secure Function Lock on the device, and then check the Restricted Functions menu in Web Based Management.
Authentication Method
Near-Field Communication (NFC) card authentication

When Secure Function Lock is on, the device stays in Public Mode until a user unlocks it by entering a password or touching an ID card to the NFC symbol.
Anyone can use the device in Public Mode, so Brother recommends restricting its most critical functions to prevent unauthorized access.
When you set up Secure Function Lock, Brother also recommend creating one or more groups, depending on the set of functions you want to restrict, for example: Manager, Regular Staff, and Part-time Staff.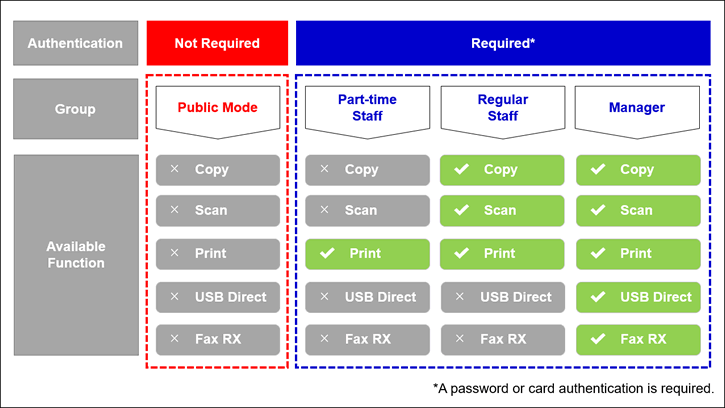 Benefits
Restrict users from accessing specific machine functions


Set print limits to reduce costs caused by excessive printing


Generate Job Logging reports to track printing

Use Cases
Supported Models
To check if your device supports the Secure Function Lock feature, see your model's Online User's Guide.