What is Visio Plugin?
Visio Plugin is a plugin software that allows printing from Microsoft Visio to P-touch in an environment where b-PAC component is installed.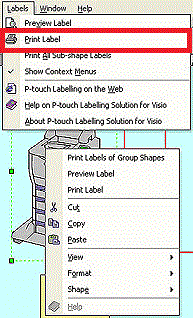 Features
Fully customisable label designs - each Visio shape can have its own design, or use the same design for all your Visio shapes.
Add a barcode to each label if required.
Company logo's or other custom graphics can be added to your label design.
Automatically print the date and/or time on your label.
Print the shape's icon if required.
When printing long sentences, the font size is automatically reduced if needed to fit the required label size.
Print each shape individually, or select multiple shapes or a group of shapes to print all associated labels with one click.
Preview your Visio label before printing.
Operation Overview
1.

Design the label in P-touch Editor software, as detailed in the supplied help file.

2.

Save this design to the correct Visio folder.




3.

In Visio, assign the relevant design to each shape, using the filename(s) saved previously from P-touch Editor.

4.

Use the new label menus to preview and print your shape labels.
Compatibility Status
Compatible operating systems/Compatible models
As per b-PAC.
b-PAC Operating Environment
Compatible Visio versions

Microsoft Visio 2000
Microsoft Visio 2002 Standard
Microsoft Visio 2002 Professional
Microsoft Visio 2003 Standard
Microsoft Visio 2003 Professional

Download
Visio Plug-in Download