PJ-763MFi
| | |
| --- | --- |
| | FAQs & Troubleshooting |
Date: 10/15/2020 ID: faqp00001528_000
The [Transfer] button does not appear in P-touch Transfer Manager. (The [Save Transfer File] button remains displayed)
The [Transfer] button does not appear until the printer is ready to print. (The [Save Transfer File] button remains displayed.)
Refer to the following FAQ and make the printer ready to print.
"Printing is not possible. (USB connection)"
When the printer becomes ready to print, open the [Ports] tab in the printer properties dialog box and make sure the [Enable bidirectional support] check box is checked. If it is unchecked, check it.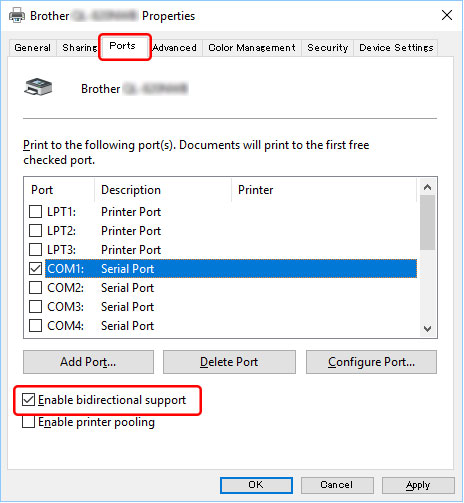 MW-145BT, MW-145MFi, MW-260, MW-260MFi, PJ-623, PJ-663, PJ-722, PJ-723, PJ-762, PJ-763, PJ-763MFi, PJ-773, PT-7600, PT-9600, PT-9700PC, PT-9800PCN, PT-D600, PT-E550W, QL-1050, QL-1050N, QL-1060N, QL-1100, QL-1110NWB, QL-580N, QL-650TD, QL-720NW, QL-800, QL-810W, QL-820NWB, RJ-2030, RJ-2050, RJ-2140, RJ-2150, RJ-3050, RJ-3050Ai, RJ-3150, RJ-3150Ai, RJ-4030, RJ-4030Ai, RJ-4040, RJ-4250WB, TD-2020, TD-2120N, TD-2130N, TD-4000, TD-4100N, TD-4410D, TD-4420DN, TD-4550DNWB
If you need further assistance, please contact Brother customer service:
Content Feedback
To help us improve our support, please provide your feedback below.
Step 1: How does the information on this page help you?
Step 2: €Are there any comments you would like to add?

Please note this form is used for feedback only.