PJ-763MFi
| | |
| --- | --- |
| | FAQs & Troubleshooting |
The [Transfer] button does not appear in P-touch Transfer Manager. (The [Save Transfer File] button remains displayed)
The [Transfer] button does not appear until the printer is ready to print. (The [Save Transfer File] button remains displayed.)
Refer to the following FAQ and make the printer ready to print.
"Printing is not possible. (USB connection)"
When the printer becomes ready to print, open the [Ports] tab in the printer properties dialog box and make sure the [Enable bidirectional support] check box is checked. If it is unchecked, check it.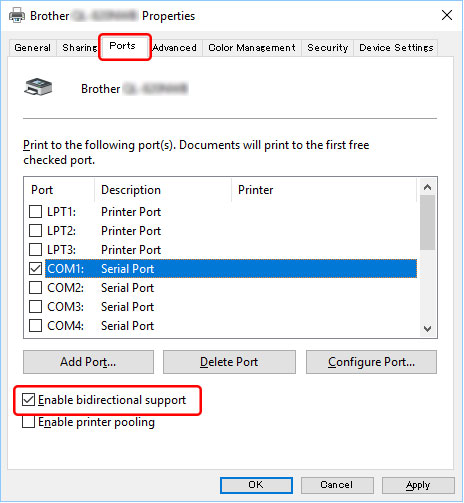 If your question was not answered, have you checked other FAQs?
Have you checked manuals?
If you need further assistance, please contact Brother customer service:
Related Models
MW-145BT, MW-145MFi, MW-260, MW-260MFi, PJ-623, PJ-663, PJ-722, PJ-723, PJ-762, PJ-763, PJ-763MFi, PJ-773, PT-7600, PT-9600, PT-9700PC, PT-9800PCN, PT-D600, PT-E550W, QL-1050, QL-1050N, QL-1060N, QL-1100, QL-1110NWB, QL-580N, QL-650TD, QL-720NW, QL-800, QL-810W, QL-820NWB, RJ-2030, RJ-2050, RJ-2140, RJ-2150, RJ-3050, RJ-3050Ai, RJ-3150, RJ-3150Ai, RJ-3230B, RJ-3250WB, RJ-4030, RJ-4030Ai, RJ-4040, RJ-4250WB, TD-2020, TD-2120N, TD-2130N, TD-4000, TD-4100N, TD-4410D, TD-4420DN, TD-4550DNWB
Content Feedback
To help us improve our support, please provide your feedback below.