HL-8050N
| | |
| --- | --- |
| | FAQs & Troubleshooting |
Date: 05/09/2013 ID: faq00000026_001
How do I clear paper jams?
If a paper jam occurs, printing stops and an error message appears on the control panel informing you of the location of the paper jam.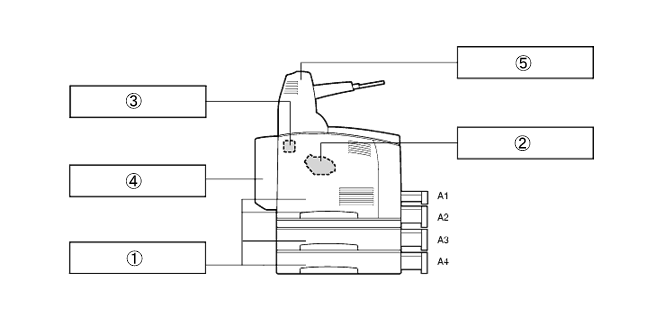 The illustration above shows the printer with the two optional lower trays, duplex unit, and offset catch tray installed.
If the jammed paper is removed without opening the top cover, you still need to open and close the top cover. Doing this will remove the error message.
When removing paper jams, make sure that no pieces of paper are left inside the printer, as this can cause a fire. If the paper is wrapped around the fuser or roller, or you cannot see the jam you are trying to clear, do not attempt to remove the paper by yourself, as this may cause injuries or burns. Turn the printer off immediately and contact your dealer or Brother Customer Service.
Never touch an area indicated by a high-temperature warning label (on or near the fuser unit). Touching these areas may result in burns.
If smoke comes out of the printer when a paper jam occurs, do not open the printer covers. Turn the printer off, remove the power cord from the AC outlet/socket, and contact your dealer or Brother Customer Service for assistance.
Remove jammed paper slowly and carefully to avoid tearing it.
Related FAQs
If you need further assistance, please contact Brother customer service:
Content Feedback
To help us improve our support, please provide your feedback below.
Step 1: How does the information on this page help you?
Step 2: Are there any comments you would like to add?

Please note this form is used for feedback only.