DCP-130C
| | |
| --- | --- |
| | FAQs & Troubleshooting |
Date: 07/07/2009 ID: faq00002450_001
When I try to install the MFL-Pro Suite from the CD-ROM, I receive an Internal Error 2723 and an IS001 Error stating: The PaperPort Installer doesn't respond. What can I do?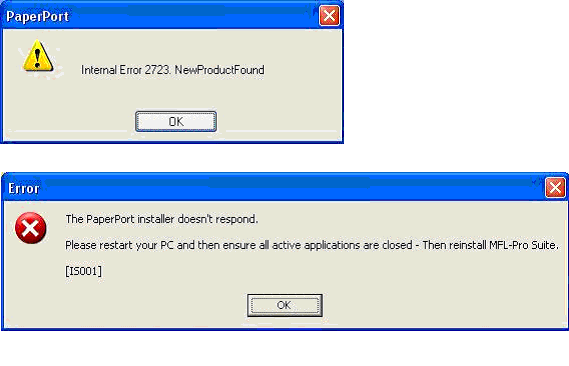 These errors can occur because ScanSoft™ PaperPort™ 11SE is already installed into your PC.
To resolve this issue, install MFL-Pro Suite without PaperPort® 9.0SE.


If you don't have the CD-ROM, please go to Downloads section and download Full Driver & Software Package. The installation instructions are available in the download page.
Insert the CD-ROM into the drive.
Select Install Optional Applications.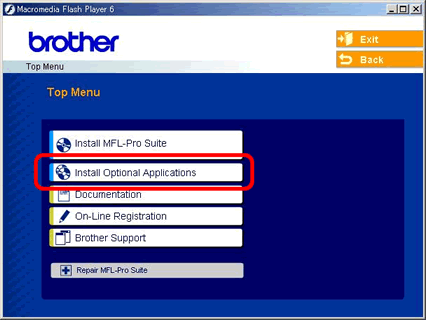 Select MFL-Pro Suite without PaperPort® 9.0SE.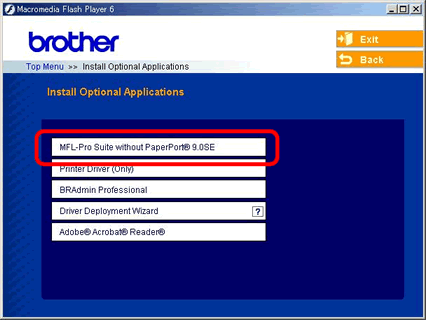 DCP-110C, DCP-120C, DCP-130C, DCP-330C, DCP-7020, DCP-8040, DCP-8045D, DCP-8060, DCP-8065DN, MFC-210C, MFC-240C, MFC-3240C, MFC-3340CN, MFC-3360C, MFC-420CN, MFC-440CN, MFC-5440CN, MFC-5460CN, MFC-5840CN, MFC-5860CN, MFC-620CN, MFC-640CW, MFC-665CW, MFC-7220, MFC-7225N, MFC-7420, MFC-7820N, MFC-820CW, MFC-8440, MFC-845CW, MFC-8460N, MFC-8640D, MFC-8660DN, MFC-8670DN, MFC-8840D, MFC-8840DN, MFC-8860DN, MFC-8870DW, MFC-9420CN
If you need further assistance, please contact Brother customer service:
Content Feedback
To help us improve our support, please provide your feedback below.
Step 1: How does the information on this page help you?
Step 2: €Are there any comments you would like to add?

Please note this form is used for feedback only.