PJ-763
| | |
| --- | --- |
| | FAQs & Troubleshooting |
Date: 01/11/2018 ID: faqp00100399_000
P-touch Editor displays "There is no printer driver installed with this application." (for Windows 10)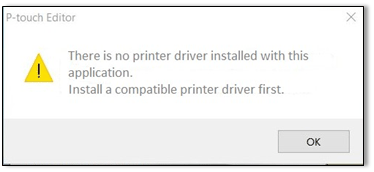 If you receive this error, your printer may have been incorrectly detected by your computer. Do the following:

Click the Start Menu > (All apps) > Windows System > Control Panel > Hardware and Sound > Devices and Printers.

Check if your printer is listed as an unspecified device.

If the printer is not listed in Devices and Printers, make sure that :
・The printer is turned on.
・The printer is connected to the computer via USB.

Right-click the printer listed as an unspecified device, and then click Remove device.

Make sure the USB cable is connected to the computer and the printer.

Turn the printer off and then on. The computer should be able to correctly detect the printer.


If the printer has not been detected, disconnect the USB cable, and then connect it again.
PJ-763, PJ-763MFi, PJ-773, PT-D600, PT-D800W, PT-P700, PT-P750W, PT-P900W, PT-P950NW, QL-800, QL-810W, QL-820NWB, RJ-2030, RJ-2050, RJ-2150, RJ-3050, RJ-3150, RJ-4030, RJ-4040, VC-500W
If you need further assistance, please contact Brother customer service:
Content Feedback
To help us improve our support, please provide your feedback below.
Step 1: How does the information on this page help you?
Step 2: Are there any comments you would like to add?

Please note this form is used for feedback only.