MFC-9420CN
| | |
| --- | --- |
| | FAQs & Troubleshooting |
Date: 09/11/2009 ID: faq00002630_000
The error message "An error occurred during the installation. ... . IS015- GetOsVersion - 1" appears when installing the Full Driver & Software Packages for Windows 7 downloaded from the "Download" section.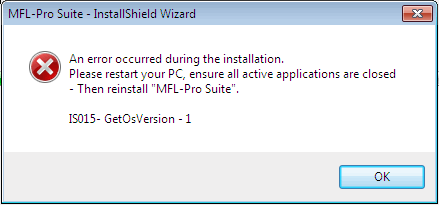 This error occurs if you double-click the wrong setup.exe file. Please go to the "
xxxx
" folder and double-click "Setup.exe" to start the installation (where
xxxx = your model name
).
DCP-115C, DCP-120C, DCP-130C, DCP-150C, DCP-165C, DCP-185C, DCP-195C, DCP-330C, DCP-350C, DCP-385C, DCP-540CN, DCP-560CN, DCP-585CW, DCP-6690CW, DCP-7010, DCP-8060, DCP-9040CN, FAX-2820, MFC-215C, MFC-235C, MFC-240C, MFC-255CW, MFC-260C, MFC-290C, MFC-295CN, MFC-3360C, MFC-425CN, MFC-440CN, MFC-465CN, MFC-490CW, MFC-5860CN, MFC-5890CN, MFC-640CW, MFC-6490CW, MFC-665CW, MFC-685CW, MFC-6890CDW, MFC-7220, MFC-7340, MFC-7420, MFC-7440N, MFC-7820N, MFC-7840W, MFC-790CW, MFC-795CW, MFC-8220, MFC-8370DN, MFC-8380DN, MFC-8460N, MFC-885CW, MFC-8860DN, MFC-8880DN, MFC-8890DW, MFC-9120CN, MFC-9320CW, MFC-9420CN, MFC-9440CN, MFC-9450CDN, MFC-9840CDW, MFC-990CW
If you need further assistance, please contact Brother customer service:
Content Feedback
To help us improve our support, please provide your feedback below.
Step 1: How does the information on this page help you?
Step 2: €Are there any comments you would like to add?

Please note this form is used for feedback only.