MFC-8870DW
| | |
| --- | --- |
| | FAQs & Troubleshooting |
Date: 02/10/2007 ID: faq00002472_000
What is the suffix and prefix for the Fax to Server feature?
The Fax to Server feature allows the machine to scan a document and send it over the network to a separate fax server. The document will then be sent from the fax server as fax data to the destination fax number over standard phone lines.
The correct syntax for the fax server is required to send a document to the fax server using the Fax to Server feature.
The destination fax number must be sent with a prefix and a suffix that match the parameters used by the fax server. In most cases the syntax for the prefix is "fax=". And the syntax for the suffix would be the domain name of the fax server E-mail gateway.
The suffix must also include the "@" symbol at the beginning of the suffix. The prefix and the suffix information must be stored in the machine before you can use the Fax to Server function.


For information on how to store the prefix and the suffix, please refer to the instructions "How do I set Fax to Server ON?" Destination fax numbers can be saved in the One-Touch or Speed Dial locations or entered using the dial pad (up to 20 digit numbers).


For example if you wanted to send a document to a destination fax number of 123-555-0001, the syntax below would be used.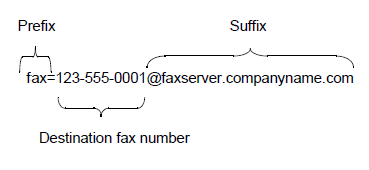 When the Fax to Server feature is set to ON, all automatic fax transmissions from the machine will be sent to the fax server for fax transmission. However you can still send a fax directly from the machine using the manual fax feature.
Related FAQs
If you need further assistance, please contact Brother customer service:
Content Feedback
To help us improve our support, please provide your feedback below.
Step 1: How does the information on this page help you?
Step 2: €Are there any comments you would like to add?

Please note this form is used for feedback only.