MFC-9840CDW
| | |
| --- | --- |
| | FAQs & Troubleshooting |
Date: 09/10/2007 ID: faq00002428_000
I'm using Firefox® 2.0 or higher as a web browser. I clicked the "Close this window" button on the page that was opened along with the HTML manual, however the browser window does not close. What can I do?
This phenomenon occurs with Firefox® 2.0 or higher. To close the window, click the
X
button on the upper right-hand corner.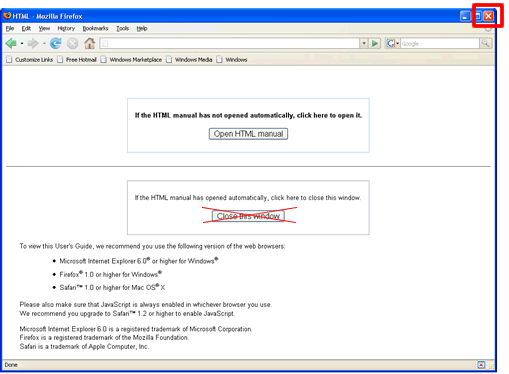 DCP-130C, DCP-135C, DCP-145C, DCP-150C, DCP-153C, DCP-163C, DCP-165C, DCP-167C, DCP-185C, DCP-195C, DCP-197C, DCP-330C, DCP-350C, DCP-353C, DCP-357C, DCP-365CN, DCP-373CW, DCP-375CW, DCP-377CW, DCP-383C, DCP-385C, DCP-387C, DCP-395CN, DCP-540CN, DCP-560CN, DCP-585CW, DCP-6690CW, DCP-7030, DCP-7030R, DCP-7040, DCP-7040R, DCP-7045N, DCP-7045NR, DCP-750CW, DCP-770CW, DCP-8070D, DCP-8085DN, DCP-9010CN, DCP-9040CN, DCP-9042CDN, DCP-9045CDN, HL-2140, HL-2140R, HL-2150N, HL-2150NR, HL-2170W, HL-2170WR, HL-3040CN, HL-3070CW, HL-4040CN, HL-4050CDN, HL-4070CDW, HL-5340D, HL-5350DN, HL-5370DW, HL-5380DN, MFC-235C, MFC-240C, MFC-250C, MFC-255CW, MFC-257CW, MFC-260C, MFC-290C, MFC-295CN, MFC-297C, MFC-3360C, MFC-440CN, MFC-465CN, MFC-490CW, MFC-5460CN, MFC-5490CN, MFC-5860CN, MFC-5890CN, MFC-5895CW, MFC-6490CW, MFC-660CN, MFC-680CN, MFC-6890CDW, MFC-7320, MFC-7320R, MFC-7440N, MFC-7440NR, MFC-7840W, MFC-7840WR, MFC-790CW, MFC-795CW, MFC-8370DN, MFC-8380DN, MFC-845CW, MFC-885CW, MFC-8880DN, MFC-8890DW, MFC-9120CN, MFC-9320CW, MFC-9440CN, MFC-9450CDN, MFC-9840CDW, MFC-990CW
If you need further assistance, please contact Brother customer service:
Content Feedback
To help us improve our support, please provide your feedback below.
Step 1: How does the information on this page help you?
Step 2: €Are there any comments you would like to add?

Please note this form is used for feedback only.