DS-600
| | |
| --- | --- |
| | FAQs & Troubleshooting |
Date: 31/08/2015 ID: faq00002887_000
I received a "Calibration failed" error message when attempting to calibrate my scanner. (For Windows)
This error message appears if the calibration failed. During the calibration process the calibration sheet, with the large black bar facing down, should scan with a back and forth motion and finally move to the input slot.
NOTE: Illustrations shown below are for representation purposes and may differ from your Brother machine.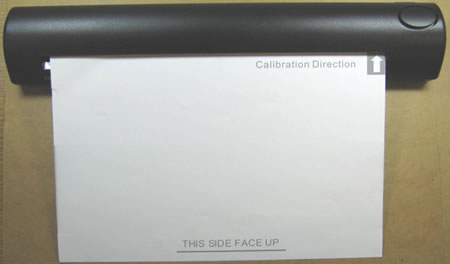 If after this, the calibration fails more than likely the calibration process was unable to write the calibration data file to specific directory.

This problem can be corrected by the following:
If you don't have full administrative control, the calibration process will fail.
Disconnect the USB cable from the machine.

Open Explorer.

(Windows 8)

On the Start screen, right-click somewhere on an empty spot, and then click, All Apps from the bar.
Click File Explorer.

(Windows XP, Windows Vista, Windows 7)
Right click Start or and choose Open Windows Explorer or Explorer.


Enter the following texts to the address bar.

(Windows Vista, Windows 7 and Windows 8)
%ALLUSERSPROFILE%

(Windows XP)
%ALLUSERSPROFILE%\Application Data


Open Brother Scanner folder.

Right click DSmobileyyy (yyy=your model) folder and choose Delete.

Uninstall the driver. Click here to see the instruction on how to uninstall the scanner drivers.

Make sure that you are logged on with Administrator rights.

Reinstall the driver. Click here to see the instruction on how to install driver.

Calibrate the scanner, click here to see the instructions on how to calibrate the scanner.
If the scanner does not complete a successful calibration after completing the steps above, please contact Brother Customer Service from "Contact Us".
If you need further assistance, please contact Brother customer service:
Content Feedback
To help us improve our support, please provide your feedback below.
Step 1: How does the information on this page help you?
Step 2: €Are there any comments you would like to add?

Please note this form is used for feedback only.