MFC-260C
| | |
| --- | --- |
| | FAQs & Troubleshooting |
The error message "An error occurred during the installation. ... . IS015- GetOsVersion - 1" appears when installing the Full Driver & Software Packages for Windows 7 downloaded from the "Download" section.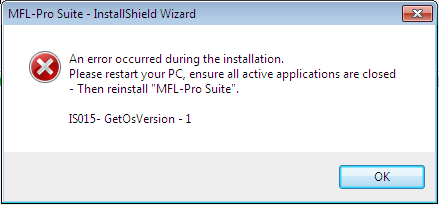 This error occurs if you double-click the wrong setup.exe file. Please go to the "
xxxx
" folder and double-click "Setup.exe" to start the installation (where
xxxx = your model name
).
If your question was not answered, have you checked other FAQs?
Have you checked the manuals?
If you need further assistance, please contact Brother customer service:
Related Models
DCP-115C, DCP-117C, DCP-120C, DCP-130C, DCP-135C, DCP-145C, DCP-150C, DCP-153C, DCP-163C, DCP-165C, DCP-167C, DCP-185C, DCP-195C, DCP-197C, DCP-315CN, DCP-330C, DCP-340CW, DCP-350C, DCP-353C, DCP-357C, DCP-365CN, DCP-373CW, DCP-375CW, DCP-377CW, DCP-383C, DCP-385C, DCP-387C, DCP-395CN, DCP-540CN, DCP-560CN, DCP-585CW, DCP-6690CW, DCP-7010, DCP-7010L, DCP-7010R, DCP-7025, DCP-7025R, DCP-7030, DCP-7030R, DCP-7040, DCP-7040R, DCP-7045N, DCP-7045NR, DCP-750CW, DCP-770CW, DCP-8060, DCP-8065DN, DCP-8070D, DCP-8085DN, DCP-9010CN, DCP-9040CN, DCP-9042CDN, DCP-9045CDN, FAX-2920, FAX-2920R, MFC-215C, MFC-235C, MFC-240C, MFC-250C, MFC-255CW, MFC-257CW, MFC-260C, MFC-290C, MFC-295CN, MFC-297C, MFC-3360C, MFC-425CN, MFC-440CN, MFC-465CN, MFC-490CW, MFC-5460CN, MFC-5490CN, MFC-5860CN, MFC-5890CN, MFC-5895CW, MFC-640CW, MFC-6490CW, MFC-660CN, MFC-680CN, MFC-6890CDW, MFC-7225N, MFC-7320, MFC-7320R, MFC-7420, MFC-7420R, MFC-7440N, MFC-7440NR, MFC-7820N, MFC-7820NR, MFC-7840W, MFC-7840WR, MFC-790CW, MFC-795CW, MFC-820CW, MFC-8220, MFC-8370DN, MFC-8380DN, MFC-845CW, MFC-8460N, MFC-885CW, MFC-8860DN, MFC-8870DW, MFC-8880DN, MFC-8890DW, MFC-9120CN, MFC-9320CW, MFC-9420CN, MFC-9440CN, MFC-9450CDN, MFC-9840CDW, MFC-990CW
Content Feedback
To help us improve our support, please provide your feedback below.