What is Innobella™?
Brother is proud to introduce Innobella™.
Innobella™ is a brand new range of genuine consumables offered by Brother.
The name "Innobella™" derives from the words "Innovation" and "Bella" (meaning "Beautiful" in Italian) and is a representation of the "innovative" technology providing Brother customer's with "beautiful" and "long lasting" print results.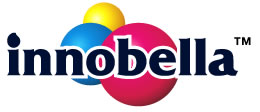 With an astounding ink technology that goes in perfect harmony with our uniquely engineered paper – Innobella™ equals incomparable reliability in print quality.
| Innobella™ Ink | Innobella™ Paper |
| --- | --- |
| | |
What is the innovative technology of Innobella™?
Print Longevity
Richer Colors
Sharper Images
Print Longevity
Traditional ink and paper are affected by light and ozone and tend to fade. Brother's newly developed Innobella™ ink and paper are light fade, ozone fade, and therefore color fast resistant. Brother"s Innobella™ ink has an advanced chemical formula and when printed on Brother's special coated Innobella™ Glossy Paper, it will provide long lasting photos for long lasting memories.
Richer Colors
Richer colors is a new natural photo color technology from Brother. The expansion of color gamut produces more vivid printing results because the width of the color reproduction area is essential for beautiful prints. Brother's new Innobella™ ink and Innobella™ paper broaden the maximum color reproduction area and improves the red, magenta and green colors. That's how true-to-life colors are produced.
The image of color gamut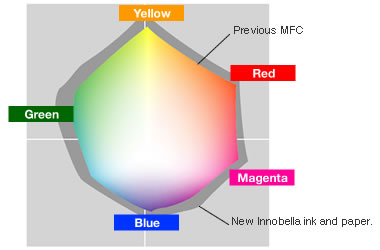 Sharper Images
New Innobella™ paper has a smoother face than previous paper by adding a special coating on the paper surface. Thanks to this special paper coating, Innobella™ ink on Innobella™ paper results in less bleeding of ink on paper. Vivid colors, high quality prints and sharper images are produced.
Magnified picture of print results using Innobella™ inks on previous paper and new Innobella™ paper.
Previous paper
(BP60GL Series)
Innobella™ paper
(BP61GL Series)
Benefits of using Innobella™ inks and papers with Brother's new series of MFCs.
1.5pl
*

technology

Brother's new series of MFCs integrate a new advanced print head technology to produce an amazing 1.5 picoliter (a globe 0.0142㎜ diameter) ink droplet and the capability to accurately place these droplets on the paper. This technology produces less graininess, and therefore smoother and sharper images with finer definition.
Magnified images of various sized ink droplets.
* "pl" stands for picoliter.