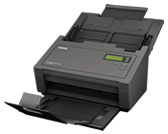 Support & Downloads
PDS-6000
Information
Windows 10 Compatibility
If you upgrade from Windows 7 or Windows 8.1 to Windows 10, some features of the installed drivers and software may not work correctly. Please uninstall all drivers and software in Windows 7 or Windows 8.1 before upgrading to Windows 10.

For OS X v10.11 users:
If you are not able to scan after upgrading to OS X v10.11, your PC may not recognize the machine because the USB port of your PC is USB 2.0. Click here to see solutions.

Firmware update is available for this model. Click here to update the firmware.