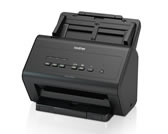 Support & Downloads
ADS-3000N
Information
30/09/2021
Brother Meter Read Tool is not available for download from 30 September 2021.
Windows 10 Compatibility
If you upgrade from Windows 7 or Windows 8.1 to Windows 10, some features of the installed drivers and software may not work correctly. Please uninstall all drivers and software in Windows 7 or Windows 8.1 before upgrading to Windows 10.
Firmware update is available for this model. Click here to update the firmware.