HL-4150CDN
| | |
| --- | --- |
| | FAQs & Troubleshooting |
Date: 20/12/2018 ID: faq00000548_000
When I run the Firmware update tool or the I-FAX install tool, the "Program failed to run" message appears on my PC screen. What do I do?
Please check the following points:
If a personal firewall software (or anti-virus software) is installed on your PC, temporarily disable it. For instructions on how to disable this type of program, please refer to the user's guide for your software or contact the software manufacture.
Once the firmware upgrade or I-FAX feature installation is completed, enable the program again.
If you are using Windows XP, make sure the 'Internet Connection Firewall' setting is off.
How to check if the 'Internet Connection Firewall' is running:
Click 'Start' and then 'Control Panel'.

Select 'Network Connections'.

Right click 'Local Area Connection' and select 'Properties'.

Click the 'Advanced' tab and make sure that the 'Internet Connection Firewall' check box is disabled.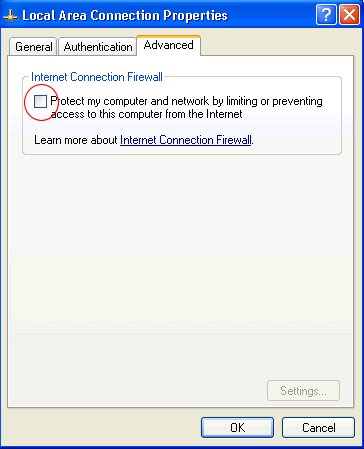 Once the firmware upgrade or I-FAX feature installation is completed, you can reactivate the Firewall settings.
ADS-1100W, ADS-1600W, ADS-2100, ADS-2600We, ADS-2800W, ADS-3600W, DCP-145C, DCP-1610W, DCP-165C, DCP-195C, DCP-350C, DCP-375CW, DCP-385C, DCP-560CN, DCP-585CW, DCP-6690CW, DCP-7010, DCP-7010L, DCP-7025, DCP-7030, DCP-7055, DCP-7065DN, DCP-8060, DCP-8065DN, DCP-8070D, DCP-9010CN, DCP-9040CN, DCP-J105, DCP-J125, DCP-J140W, DCP-L2540DW, DCP-T300, DCP-T310, DCP-T500W, DCP-T510W, DCP-T710W, FAX-2840, FAX-2920, HL-1210W, HL-2030, HL-2035, HL-2040, HL-2070N, HL-2130, HL-2140, HL-2150N, HL-2240D, HL-2270DW, HL-3040CN, HL-3150CDN, HL-3170CDW, HL-4040CN, HL-4050CDN, HL-4150CDN, HL-4570CDW, HL-5240L, HL-5250DN, HL-5340D, HL-5350DN, HL-5380DN, HL-5440D, HL-5450DN, HL-6180DW, HL-L2365DW, HL-L5000D, HL-L5200DW, HL-L6400DW, HL-L8350CDW, HL-L8360CDW, MFC-1910W, MFC-235C, MFC-250C, MFC-255CW, MFC-465CN, MFC-490CW, MFC-5860CN, MFC-6490CW, MFC-7225N, MFC-7320, MFC-7360, MFC-7420, MFC-7440N, MFC-7820N, MFC-7860DW, MFC-795CW, MFC-8370DN, MFC-8380DN, MFC-8460N, MFC-8510DN, MFC-8860DN, MFC-8880DN, MFC-8910DW, MFC-8950DW, MFC-9120CN, MFC-9140CDN, MFC-9320CW, MFC-9330CDW, MFC-9440CN, MFC-9460CDN, MFC-9840CDW, MFC-990CW, MFC-9970CDW, MFC-J200, MFC-J220, MFC-J2320, MFC-J2330DW, MFC-J2720, MFC-J2730DW, MFC-J3520, MFC-J3530DW, MFC-J3720, MFC-J3930DW, MFC-J6510DW, MFC-L2700DW, MFC-L2740DW, MFC-L5700DN, MFC-L5900DW, MFC-L6900DW, MFC-L8600CDW, MFC-L8690CDW, MFC-L8850CDW, MFC-L9570CDW, MFC-T910DW
If you need further assistance, please contact Brother customer service:
Content Feedback
To help us improve our support, please provide your feedback below.
Step 1: How does the information on this page help you?
Step 2: €Are there any comments you would like to add?

Please note this form is used for feedback only.