MFC-8910DW
| | |
| --- | --- |
| | FAQs & Troubleshooting |
Date: 31/10/2011 ID: faq00000042_001
I'm using Macintosh. What is the PreScan option used for?
PreScanning allows you to scan an image quickly at a low resolution. A thumbnail version will appear in the Scanning Area. This is only a preview of the image, showing you how it will look. The PreScan button is used to preview an image for cropping any unwanted portions from the image. When you are satisfied with the preview, click Start to scan the image.
Pre-Scanning is not available for Duplex (two-sided) Scanning.
Insert the original in the ADF or Flatbed portion of your unit and click the PreScan button. The entire original will be scanned into your Macintosh and will appear as a thumbnail image in the Scanning Area of the Scanner dialog box, shown below: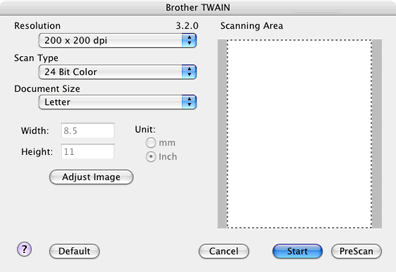 To scan a selected area of the item that you pre-scanned, click the mouse in the "Scanning Area" and drag the pointer around the area you want scanned, shown in the image below: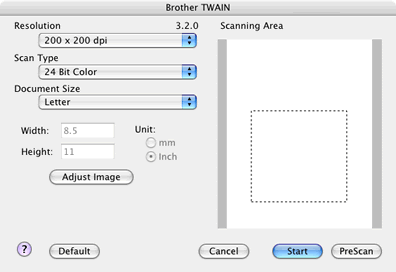 Insert the original document into your Brother machine again, if you used the ADF. Adjust any of the settings for Resolution, Scan Type, Brightness, Contrast, and Size in the Scanner Setup dialog box, as needed and click Start.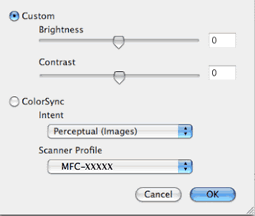 This time only the area you had selected will appear once the image is scanned in. If your machine software came with the Presto!® PageManager® application you can use it for editing and refining the image.
DCP-130C, DCP-135C, DCP-145C, DCP-150C, DCP-165C, DCP-185C, DCP-195C, DCP-330C, DCP-350C, DCP-385C, DCP-540CN, DCP-6690CW, DCP-9010CN, DCP-9040CN, DCP-J100, DCP-J105, DCP-J125, DCP-J140W, DCP-J4110DW, DCP-T300, DCP-T700W, MFC-240C, MFC-250C, MFC-260C, MFC-265C, MFC-290C, MFC-295CN, MFC-440CN, MFC-465CN, MFC-490CW, MFC-5460CN, MFC-5490CN, MFC-5860CN, MFC-5890CN, MFC-6490CW, MFC-665CW, MFC-685CW, MFC-6890CDW, MFC-790CW, MFC-8460N, MFC-8860DN, MFC-8880DN, MFC-8910DW, MFC-9120CN, MFC-9320CW, MFC-9440CN, MFC-9840CDW, MFC-9970CDW, MFC-J200, MFC-J220, MFC-J2310, MFC-J2510, MFC-J265W, MFC-J415W, MFC-J430W, MFC-J4410DW, MFC-J4510DW, MFC-J615W, MFC-J625DW, MFC-J6510DW, MFC-J6710DW, MFC-T800W
If you need further assistance, please contact Brother customer service:
Content Feedback
To help us improve our support, please provide your feedback below.
Step 1: How does the information on this page help you?
Step 2: €Are there any comments you would like to add?

Please note this form is used for feedback only.