MFC-8910DW
| | |
| --- | --- |
| | FAQs & Troubleshooting |
Date: 24/03/2016 ID: faq00002451_000
I'm using Windows XP Professional x64 Edition/ Windows Vista 64-bit edition. I'm unable to scan from Corel® Paint Shop Pro® X using the WIA driver.
To resolve this issue, use the TWAIN driver instead of the WIA driver.
Please follow the steps below:
From the Corel® Paint Shop Pro® X application, select File => Import => TWAIN Source....

The Select Source dialog box appears.

Choose the TW-Brother XXXXXXX and click Select. (Where XXXXXXX is your model name.)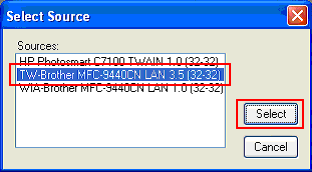 From the Corel® Paint Shop Pro® X application, select File => Import => TWAIN Acquire....

The Scanner Setup dialog box appears.

Configure your desired scan settings.

Click Start to scan the image.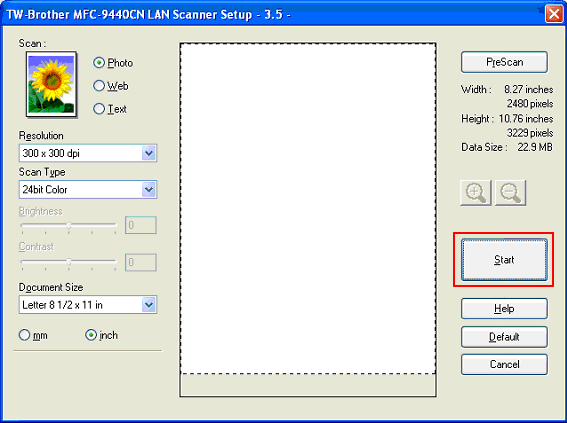 DCP-110C, DCP-1610W, DCP-1616NW, DCP-540CN, DCP-6690CW, DCP-7010, DCP-7055, DCP-7060D, DCP-9010CN, DCP-9040CN, DCP-J105, DCP-J140W, DCP-J4110DW, DCP-T700W, MFC-1910W, MFC-1916NW, MFC-210C, MFC-295CN, MFC-410CN, MFC-425CN, MFC-440CN, MFC-465CN, MFC-490CW, MFC-5440CN, MFC-5460CN, MFC-5490CN, MFC-5840CN, MFC-5860CN, MFC-5890CN, MFC-620CN, MFC-640CW, MFC-6490CW, MFC-665CW, MFC-685CW, MFC-6890CDW, MFC-7220, MFC-7360, MFC-7420, MFC-7470D, MFC-7820N, MFC-7840N, MFC-7860DW, MFC-790CW, MFC-8220, MFC-8440, MFC-8460N, MFC-8840DN, MFC-8860DN, MFC-8880DN, MFC-8910DW, MFC-9120CN, MFC-9140CDN, MFC-9320CW, MFC-9330CDW, MFC-9440CN, MFC-9840CDW, MFC-9970CDW, MFC-J200, MFC-J2310, MFC-J2510, MFC-J265W, MFC-J415W, MFC-J430W, MFC-J4410DW, MFC-J4510DW, MFC-J615W, MFC-J625DW, MFC-J6510DW, MFC-J6710DW, MFC-L2701DW, MFC-L5700DN, MFC-L5900DW, MFC-L6900DW, MFC-L8850CDW, MFC-T800W
If you need further assistance, please contact Brother customer service:
Content Feedback
To help us improve our support, please provide your feedback below.
Step 1: How does the information on this page help you?
Step 2: €Are there any comments you would like to add?

Please note this form is used for feedback only.