MFC-J485DW
| | |
| --- | --- |
| | FAQs & Troubleshooting |
Date: 02/03/2017 ID: faq00100240_000
Some error messages(i.e. ".NET Framework Initialization Error") appear on my PC(Windows XP), when I install the driver.
This issue may occur if you install the Full Driver & Software Package onto your PC (Windows XP) from the CD-ROM (DVD-ROM) that comes with your Brother machine or the file you downloaded from the Downloads section. The followings are some examples of the error messages you will see.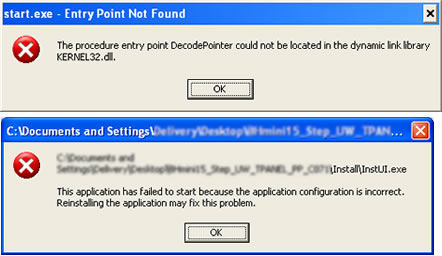 Your Brother machine is compatible with the operating systems (OS) listed below.
Identify your SP (Service Pack) version and system type (32-bit or 64-bit).
Windows XP SP3 (32-bit)
Windows XP SP2 (64-bit)
If you don't know the version of your Windows XP and system type, click here to see how to identify your Operating System (OS).

If you cannot install onto the operating system (OS) above, install the latest Full Driver & Software Package.
> Click here to download Full Driver & Software Package in the Downloads section.
ADS-2400N, ADS-2800W, ADS-3000N, ADS-3600W, DCP-L5500DN, DCP-L5502DN, DCP-L5600DN, DCP-L5602DN, DCP-L5650DN, DCP-L5652DN, DCP-L6600DW, HL-L5000D, HL-L5100DN, HL-L5102DW, HL-L5200DW(T), HL-L5202DW, HL-L6200DW(T), HL-L6202DW, HL-L6250DW, HL-L6300DW, HL-L6400DW(T), HL-L6402DW, MFC-J460DW, MFC-J480DW, MFC-J485DW, MFC-J680DW, MFC-J775DW(XL), MFC-J880DW, MFC-J885DW, MFC-L5700DW, MFC-L5702DW, MFC-L5800DW, MFC-L5802DW, MFC-L5850DW, MFC-L5900DW, MFC-L5902DW, MFC-L6700DW, MFC-L6702DW, MFC-L6750DW, MFC-L6800DW, MFC-L6900DW, MFC-L6902DW
If you need further assistance, please contact Brother customer service:
Content Feedback
To help us improve our support, please provide your feedback below.
Step 1: How does the information on this page help you?
Step 2: €Are there any comments you would like to add?

Please note this form is used for feedback only.