MFC-9420CN
| | |
| --- | --- |
| | FAQs & Troubleshooting |
Date: 08/10/2018 ID: faq00002495_002
I'm using Mac OS X 10.7.x or greater. The network scanning feature does not work when using the SCAN key or the control panel of my Brother machine.
Step 1: Configure scanner settings for the scan from the control panel of the machine.
Open the Device Selector and configure scanner settings.
> Click here to see how to launch and use the Device Selector to configure the scanner settings.

If the issue still continues, go to Step 2 below.
Step 2: You may experience this issue depending on the setting of your Macintosh firewall. Change the setting in the Firewall pane of Security preferences to resolve the issue.
If you see the message screen below, click Allow. The setting in the Firewall pane of Security preferences will be changed.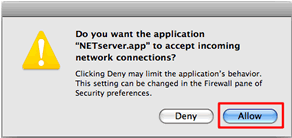 If you do not see this message screen, follow the instructions below.
Select System Preferences from the Apple Menu.

Click the Security & Privacy icon and click Firewall tab.

Click Click the lock to make changes. When prompted, enter your admin password to unlock Security & Privacy preferences.


Click Firewall Options.


If the firewall is turned off, click Turn On Firewall.

Select Automatically allow signed software to receive incoming connections and click the "+" button at the bottom of the list.


Select Macintosh HD => Library => Printers => Brother => Utilities => Server => NETserver or NETserver.app and click Add.

If you cannot find the NETserver or NETserver.app folder in the directory, install the scanner driver. The latest driver is available in the Downloads section of the Brother Solutions Center.
If your hard drive icon (Macintosh HD icon) is not on the desktop:

Click Finder => Preferences....
In the General tab, check "Hard disks" in the "Show these items on the desktop:"
Close the Finder Preferences window.
Your hard drive icons will appear on the desktop.

Now, you can see the application NETserver in the list.


Close the Security application.
Related FAQs
ADS-2000e, ADS-2400N, ADS-2500W, ADS-2500We, ADS-2800W, ADS-3000N, ADS-3600W, DCP-7020, DCP-8040, DCP-8045D, FAX-4750e, FAX-5750e, MFC-210C, MFC-3320CN, MFC-3340CN, MFC-3820CN, MFC-420CN, MFC-5440CN, MFC-5460CN, MFC-5840CN, MFC-5860CN, MFC-620CN, MFC-7220, MFC-7225N, MFC-7420, MFC-7820N, MFC-8220, MFC-8440, MFC-8500, MFC-8640D, MFC-8840D, MFC-8840DN, MFC-9420CN, MFC-9700, MFC-9800
If you need further assistance, please contact Brother customer service:
Content Feedback
To help us improve our support, please provide your feedback below.
Step 1: How does the information on this page help you?
Step 2: €Are there any comments you would like to add?

Please note this form is used for feedback only.