MFC-9130CW
| | |
| --- | --- |
| | FAQs & Troubleshooting |
Date: 04/11/2019 ID: faq00002637_009
I can print but cannot scan via network. (For Windows)
Follow the steps below to resolve the issue.
Step 1: Check the network connection
Check your Brother machine is available for network print.
If you cannot print, click here to see how to resolve cannot print using my Brother machine on a wireless network (Windows).
Step 2: Check the scanner driver
Open scanner list and check the scanner icon of your Brother machine exists there.
> Click here to see how to open the "Scanners and Cameras".

If the scanner icon of your Brother machine does not exist there, you need to install the scanner driver.
> Go to Downloads section of this website and download Full Driver & Software Package.
The installation instructions are available on the download page.
Step 3: Check the IP Address of your Brother machine
Obtain the machine's IP address by printing a Network Configuration Report.
> Click here to see how to print the Network Configuration Report.
Step 4: Set the IP Address on the Scanner Driver
NOTE: The steps may differ depending on the operating system being used.
Open Scanner Properties.
> Click here to see how to open Scanner Properties.
Click Network Setting tab and select Specify your machine by address.
Enter the IP Address you confirmed in the Step 3 and click OK.

If an IP Address conflict occurs, consult a network administrator to get a correct IP address.
Obtain the machine's Boot Method setting using the Network Configuration report you printed earlier.
If the Boot Method (IP Config) is AUTO, change it to STATIC.
For details, refer to the User's Guide or Network User's Guide.
Step 5: Check the Firewall settings
Check for a Firewall setting on your computer.
If a Firewall on your computer is active, it may be rejecting the necessary network connection needed for the network scanning software to operate properly. Disable the Firewall on your computer and try the network scanning again.
Temporarily change your firewall/security settings to allow network connection.
Your computer's firewall/security software may be preventing the network connection from being established. If you receive firewall-related notifications, we recommend temporarily changing the security settings on your computer to establish the connection.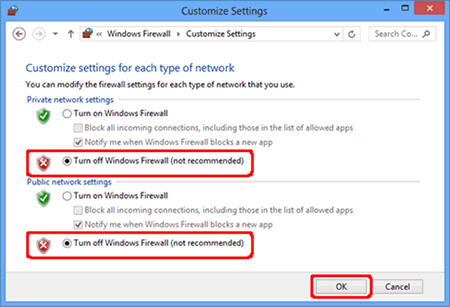 IMPORTANT
Before disabling the firewall, make sure the changes you want to make are suitable for your network. Brother will not take any responsibility for any consequences of disabling the firewall.
When finished, make sure to turn the firewall on again.
If the feature works properly after disabling the Firewall, this means the Firewall on your computer is rejecting the necessary network connection. In this case, Brother recommends you either disable the Firewall on your computer whenever you need to network scan using the scan key or leave the Firewall enabled and adjust the Firewall settings.
If the firewall blocks network communication, we recommend adding the following Internal/External ports in your firewall:
UDP: 54925
UDP: 137
UDP: 161
Step 6: Uninstall and reinstall the Brother drivers
Uninstall and reinstall the Brother drivers.

If you are using a firewall other than Windows Firewall or Windows Firewall is off, you may receive a message warning you that the firewall could block network communication. See the instructions provided with your firewall software for information on how to add the following network ports:

For network scanning, add UDP port 54925.
If you still have trouble with your network connection, add UDP port 137 and 161.

Attempt to scan again to determine if the issue has been resolved. If you are still unable to scan:

Verify that there are no security applications or firewalls running on the computer that could prevent network communication.
Attempt to scan from another network-connected computer.

These steps will help you determine if the issue is specific to this computer. If you can scan from other computers, then contact your computer manufacturer or network administrator for assistance troubleshooting this specific computer.
Related FAQs
DCP-1612W, DCP-7055W, DCP-J105, DCP-J140W, DCP-J152W, DCP-L2520DW, DCP-T500W, DCP-T700W, HL-3180CDW, MFC-255CW, MFC-9130CW, MFC-J200, MFC-J265W, MFC-J270W, MFC-J280W, MFC-J285DW, MFC-J410W, MFC-J415W, MFC-J425W, MFC-J430W, MFC-J4320DW, MFC-J435W, MFC-J4420DW, MFC-J450DW, MFC-J460DW, MFC-J470DW, MFC-J475DW, MFC-J480DW, MFC-J485DW, MFC-J625DW, MFC-J650DW, MFC-J680DW, MFC-J775DW(XL), MFC-L2680W, MFC-L2685DW, MFC-T800W
If you need further assistance, please contact Brother customer service:
Content Feedback
To help us improve our support, please provide your feedback below.
Step 1: How does the information on this page help you?
Step 2: €Are there any comments you would like to add?

Please note this form is used for feedback only.