MFC-6800
| | |
| --- | --- |
| | FAQs & Troubleshooting |
Date: 03/16/2006 ID: faq00000560_000
The error message "Can not load Word for Windows 6.0 files" appears at the end of the software installation. I have installed Windows® XP Service Pack 2 (SP2). What should I do?
This issue is caused because Windows® XP SP2 does not support the file type of the "ReadMe" file (WRI) provided with the software. The installation of the software has completed correctly.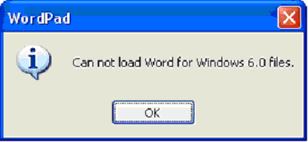 To view the "ReadMe" file, use Word or Word viewer 97.
DCP-1000, DCP-1400, DCP-8020, DCP-8025D, DCP-8040, DCP-8045D, FAX-5750e, MFC-3100C, MFC-3200C, MFC-3220C, MFC-3320CN, MFC-3420C, MFC-3820CN, MFC-4420C, MFC-4800, MFC-4820C, MFC-5100C, MFC-5200C, MFC-6800, MFC-8220, MFC-8420, MFC-8440, MFC-8500, MFC-8820D, MFC-8820DN, MFC-8840D, MFC-8840DN, MFC-9700, MFC-9800
If you need further assistance, please contact Brother customer service:
Content Feedback
To help us improve our support, please provide your feedback below.
Step 1: How does the information on this page help you?
Step 2: Are there any comments you would like to add?

Please note this form is used for feedback only.