PJ-763MFi
| | |
| --- | --- |
| | FAQs & Troubleshooting |
Date: 12/09/2019 ID: faqp00100435_000
I cannot print LibreOffice documents in landscape orientation. (Linux®)
When using a template, click [Print] in the [File] menu, and then select [PostScript (Level from driver)] for [Printer Language Type] in the [Device] tab.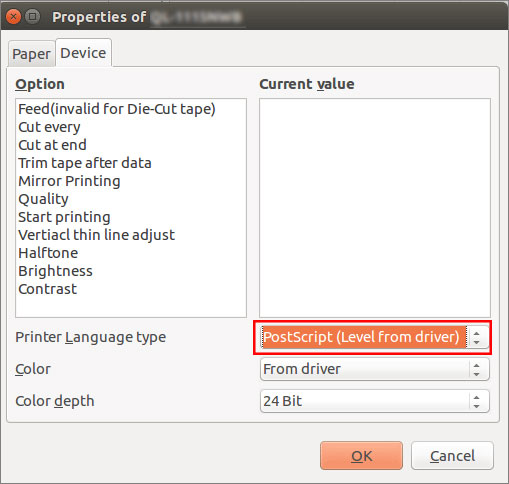 PJ-622, PJ-623, PJ-662, PJ-663, PJ-722, PJ-723, PJ-762, PJ-763, PJ-763MFi, PJ-773, PT-9500PC, PT-9700PC, PT-9800PCN, PT-P900W, PT-P950NW, QL-1050, QL-1050N, QL-1060N, QL-1100, QL-1110NWB, QL-580N, QL-600, QL-700, QL-710W, QL-720NW, QL-800, QL-810W, QL-820NWB, RJ-2030, RJ-2050, RJ-2140, RJ-2150, RJ-3050, RJ-3050Ai, RJ-3150, RJ-3150Ai, RJ-4230B, RJ-4250WB, TD-2130N, TD-4000, TD-4100N, TD-4410D, TD-4420DN, TD-4550DNWB
If you need further assistance, please contact Brother customer service:
Content Feedback
To help us improve our support, please provide your feedback below.
Step 1: How does the information on this page help you?
Step 2: €Are there any comments you would like to add?

Please note this form is used for feedback only.