MFC-7420
| | |
| --- | --- |
| | FAQs & Troubleshooting |
Date: 11/21/2006 ID: faq00000554_000
When I run the Firmware update tool or the I-FAX install tool, it asks me about my internet connection method. There are two options: 'Connect directly' or 'Using proxy'. Which one should I choose?
When you run the Firmware update tool or the I-FAX install tool, the following screen appears: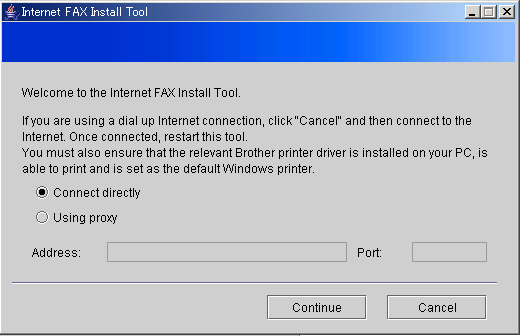 If a proxy server is not used to connect to the internet, select 'Connect directly'.
If you are not sure please ask your system administrator. Or, alternatively, try the following:
[Open your Internet Explorer]
Click 'Tools' and select 'Internet Options...'

Click the 'Connections' tab and click the 'LANSettings...' button

If the 'Use a proxy server for your LAN' option is enabled, your PC is using a proxy server to connect to the internet, in which case, in the Brother Firmware update tool or the I-FAX install tool, click the "Using proxy" option and then enter the Address and Port of the proxy server.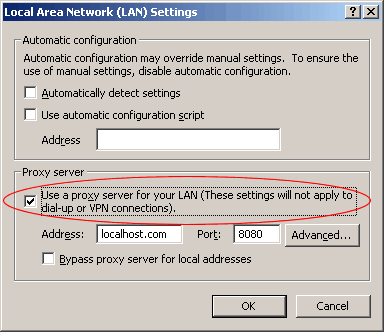 If the 'Use automatic configuration script' option is enabled, speak to your system administrator for the correct proxy information.
For the details of proxy settings, please contact your network administrator.
DCP-120C, DCP-130C, DCP-330C, DCP-7020, DCP-8060, DCP-8065DN, FAX-1840C, FAX-1860C, FAX-1940CN, FAX-1960C, FAX-2440C, FAX-2480C, FAX-2580C, FAX-2820, FAX-2920, HL-2040, HL-2070N, HL-5240, HL-5250DN, HL-5280DW, MFC-210C, MFC-240C, MFC-3240C, MFC-3340CN, MFC-3360C, MFC-420CN, MFC-440CN, MFC-5440CN, MFC-5460CN, MFC-5840CN, MFC-5860CN, MFC-5890CN, MFC-5895CW, MFC-620CN, MFC-640CW, MFC-665CW, MFC-7220, MFC-7225N, MFC-7365DN, MFC-7420, MFC-7440N, MFC-7460DN, MFC-7820N, MFC-7840W, MFC-7860DW, MFC-820CW, MFC-845CW, MFC-8460N, MFC-8510DN, MFC-8660DN, MFC-8710DW, MFC-8810DW, MFC-8860DN, MFC-8870DW, MFC-8910DW, MFC-8950DW, MFC-8950DWT, MFC-9010CN, MFC-9120CN, MFC-9125CN, MFC-9130CW, MFC-9320CW, MFC-9325CW, MFC-9330CDW, MFC-9340CDW, MFC-9420CN, MFC-9460CDN, MFC-9560CDW, MFC-J4320DW, MFC-J4420DW, MFC-J4620DW, MFC-J5330DW, MFC-J5520DW, MFC-J5620DW, MFC-J5720DW, MFC-J5830DW(XL), MFC-J5910DW, MFC-J5920DW, MFC-J5930DW, MFC-J6510DW, MFC-J6520DW, MFC-J6530DW, MFC-J6535DW(XL), MFC-J6710DW, MFC-J6720DW, MFC-J6910DW, MFC-J6920DW, MFC-J6925DW, MFC-J6930DW, MFC-J6935DW, MFC-L2720DW, MFC-L2740DW, MFC-L5700DW, MFC-L5705DW, MFC-L5800DW
If you need further assistance, please contact Brother customer service:
Content Feedback
To help us improve our support, please provide your feedback below.
Step 1: How does the information on this page help you?
Step 2: Are there any comments you would like to add?

Please note this form is used for feedback only.