PT-E550W
| | |
| --- | --- |
| | FAQs & Troubleshooting |
Date: 06/12/2023 ID: faqp00001436_001
How do I combine vertical and horizontal characters on a label? (P-touch Editor 5.x for Windows)
For TD-4T/TJ-4T series:
To use P-touch Editor, download and install "Printer Driver for P-touch Editor" from the [Downloads] section of this website.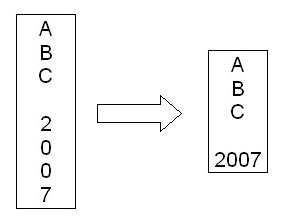 Enter text vertically. (Refer to the FAQ: "How do I print vertical text? (P-touch Editor 5.x for Windows)")


Highlight the text you want to change.




Click Format - Combined Characters.






Click the Print button.
MW-145MFi, MW-260MFi, PJ-722, PJ-723, PJ-762, PJ-763, PJ-763MFi, PJ-773, PJ-822, PJ-823, PJ-862, PJ-863, PJ-883, PT-1230PC, PT-18R, PT-18RKT, PT-1950, PT-1960, PT-2100, PT-2110, PT-2430PC, PT-2600, PT-2610, PT-2700, PT-2710, PT-2730, PT-3600, PT-9500PC, PT-9600, PT-9700PC, PT-9800PCN, PT-D450, PT-D600, PT-D800W, PT-E500, PT-E550W, PT-E800W, PT-H500, PT-P700, PT-P710BT, PT-P715eBT, PT-P750W, PT-P900/P900c, PT-P900W/P900Wc, PT-P910BT, PT-P950NW, QL-1050, QL-1050N, QL-1060N, QL-1100/1100c, QL-1110NWB/1110NWBc, QL-500, QL-550, QL-570, QL-570VM, QL-580N, QL-600, QL-650TD, QL-700, QL-710W, QL-720NW, QL-800, QL-810W/810Wc, QL-820NWB/820NWBc, RJ-2030, RJ-2050, RJ-2140, RJ-2150, RJ-3050, RJ-3050Ai, RJ-3150, RJ-3150Ai, RJ-3230B, RJ-3250WB, RJ-4030, RJ-4030Ai, RJ-4040, RJ-4230B, RJ-4250WB, TD-4000, TD-4100N, TD-4210D, TD-4410D, TD-4420DN, TD-4420TN, TD-4520DN, TD-4520TN, TD-4550DNWB, TD-4650TNWB, TD-4750TNWB, TJ-4010TN, TJ-4020TN, TJ-4021TN, TJ-4120TN, TJ-4121TN, TJ-4420TN, TJ-4422TN, TJ-4520TN, TJ-4522TN, TJ-4620TN, TP-M5000N
If you need further assistance, please contact Brother customer service:
Content Feedback
To help us improve our support, please provide your feedback below.
Step 1: How does the information on this page help you?
Step 2: Are there any comments you would like to add?

Please note this form is used for feedback only.