DCP-8150DN
| | |
| --- | --- |
| | FAQs & Troubleshooting |
Date: 04/26/2012 ID: faq00002658_005
No Toner
The toner cartridge or the drum unit and toner cartridge assembly is not installed correctly.
Pull out the drum unit. Take out the toner cartridge, and then put it back into the drum unit following the steps below:
Make sure that the machine is turned on. Leave the machine for at least 10 minutes to cool down.
Press the front cover release button and then open the front cover.





Take out the drum unit and toner cartridge assembly.





Push down the green lock lever and take the toner cartridge out of the drum unit.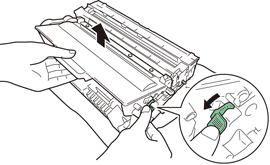 To avoid print quality problems, DO NOT touch the shaded parts shown in the illustrations.


| | |
| --- | --- |
| <Toner cartridge> | <Drum unit> |
Put the toner cartridge firmly into the drum unit until you hear it lock into place. If you put it inproperly, the green lock lever on the drum unit will lift automatically.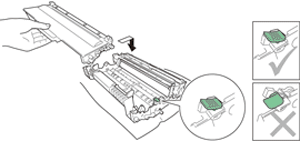 Make sure that you put in the toner cartridge properly or it may separate from the drum unit.
Put the drum unit and toner cartridge assembly back into the machine.






Close the front cover of the machine.
After putting back the toner cartridge, DO NOT turn off the machine's power switch or open the front cover until the LCD or LED shows Ready.
DCP-8110DN, DCP-8150DN, DCP-8155DN, HL-5440D, HL-5450DN, HL-5470DW, HL-5470DWT, HL-6180DW, HL-6180DWT, MFC-8510DN, MFC-8710DW, MFC-8810DW, MFC-8910DW, MFC-8950DW, MFC-8950DWT
If you need further assistance, please contact Brother customer service:
Content Feedback
To help us improve our support, please provide your feedback below.
Step 1: How does the information on this page help you?
Step 2: €Are there any comments you would like to add?

Please note this form is used for feedback only.