HL-L2375DW
| | |
| --- | --- |
| | FAQs & Troubleshooting |
Date: 02/06/2020 ID: faq00100483_000
I cannot install the Brother printer driver (Mac)
From the Apple menu, click System Preferences > Security & Privacy.



Make sure that App Store and identified developers under Allow apps downloaded from: is selected.
If it is not, select it after clicking Click the lock to make changes.
If you select the App Store option, the installer may not work correctly.




Try to download and install the file again.

Depending on how your Mac operating system was configured you may be required to enter the administrator password to install software or drivers.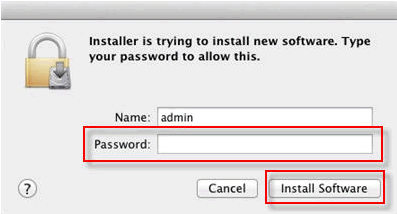 If you are not sure what the password of your Mac is, contact Apple or your organizations network administrator.
ADS-1100W, ADS-1600W, ADS-2100, ADS-2400N, ADS-2600W, ADS-2800W, ADS-3600W, DCP-1610W, DCP-L3551CDW, DCP-L5600DN, DCP-T300, DCP-T310, DCP-T500W, DCP-T510W, DCP-T700W, DCP-T710W, HL-1210W, HL-L2320D, HL-L2360DN, HL-L2365DW, HL-L2370DN, HL-L2375DW, HL-L2385DW, HL-L5100DN, HL-L6200DW, HL-L6400DW, HL-L8250CDN, HL-L8260CDN, HL-L8350CDW, HL-L8360CDW, HL-T4000DW, MFC-1910W, MFC-J2320, MFC-J2330DW, MFC-J2720, MFC-J2730DW, MFC-J3530DW, MFC-J3930DW, MFC-L2700D, MFC-L2700DW, MFC-L2715DW, MFC-L2740DW, MFC-L2750DW, MFC-L2770DW, MFC-L3735CDN, MFC-L3750CDW, MFC-L3770CDW, MFC-L5900DW, MFC-L6900DW, MFC-L8690CDW, MFC-L8850CDW, MFC-L8900CDW, MFC-L9550CDW, MFC-T4500DW, MFC-T800W, MFC-T810W, MFC-T910DW
If you need further assistance, please contact Brother customer service:
Content Feedback
To help us improve our support, please provide your feedback below.
Step 1: How does the information on this page help you?
Step 2: €Are there any comments you would like to add?

Please note this form is used for feedback only.