MFC-L8850CDW
| | |
| --- | --- |
| | FAQs & Troubleshooting |
Date: 19/06/2019 ID: faq00100669_000
Wireless setup is requesting a WPS PIN to complete the setup
While attempting to set up the Brother machine on a wireless network, you may see a screen requesting a WPS PIN to complete the setup. This typically occurs if Wi-Fi Direct is enabled on your machine and you attempt to add a Wi-Fi Direct connection using Printers and Scanners in Windows. We recommend using the Wireless Setup Wizard or the Control Panel method to configure the wireless connection instead.
NOTE: The screens may differ depending on your operating system and your Brother machine.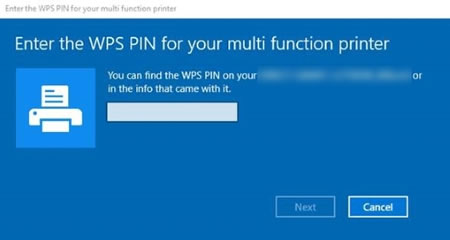 To resolve this issue, complete the following steps:
If the WPS PIN request screen is still open on your computer, click Cancel.
Reset the network settings to the factory default.
> Click here to see how to reset the machine back to the factory settings.
Reconnect the machine to the wireless network using the recommended wireless network setup methods.
> Click here to see how to set up your Brother machine.
ADS-3600W, DCP-1610W, DCP-585CW, DCP-6690CW, DCP-J1100DW, DCP-J140W, DCP-J152W, DCP-J4110DW, DCP-J4120DW, DCP-L3551CDW, HL-3170CDW, HL-4570CDW, HL-5470DW, HL-6180DW, HL-L2340DW, HL-L2365DW, HL-L2375DW, HL-L2380DW, HL-L3210CW, HL-L3230CDW, HL-L5200DW, HL-L6200DW, HL-L6400DW, HL-L8260CDW, HL-L9200CDW, HL-L9310CDW, HL-S7000DN, MFC-1910W, MFC-255CW, MFC-490CW, MFC-640CW, MFC-6490CW, MFC-665CW, MFC-685CW, MFC-6890CDW, MFC-7840W, MFC-7860DW, MFC-790CW, MFC-795CW, MFC-885CW, MFC-8890DW, MFC-8910DW, MFC-8950DW, MFC-9320CW, MFC-9340CDW, MFC-9840CDW, MFC-990CW, MFC-9970CDW, MFC-J1300DW, MFC-J265W, MFC-J415W, MFC-J430W, MFC-J4340DW(XL), MFC-J4440DW, MFC-J4510DW, MFC-J4540DW(XL), MFC-J4620DW, MFC-J470DW, MFC-J4710DW, MFC-J480DW, MFC-J491DW, MFC-J5320DW, MFC-J5330DW, MFC-J5720DW, MFC-J5730DW, MFC-J5910DW, MFC-J5920DW, MFC-J5930DW, MFC-J5945DW, MFC-J615W, MFC-J625DW, MFC-J650DW, MFC-J6510DW, MFC-J6530DW, MFC-J6910DW, MFC-J6930DW, MFC-J6935DW, MFC-J6945DW, MFC-J825DW, MFC-J870DW, MFC-L2700DW, MFC-L2713DW, MFC-L2720DW, MFC-L2740DW, MFC-L2770DW, MFC-L3710CW, MFC-L3770CDW, MFC-L5755DW, MFC-L6700DW, MFC-L6900DW, MFC-L8690CDW, MFC-L8850CDW, MFC-L9550CDW, MFC-L9570CDW
If you need further assistance, please contact Brother customer service:
Content Feedback
To help us improve our support, please provide your feedback below.
Step 1: How does the information on this page help you?
Step 2: €Are there any comments you would like to add?

Please note this form is used for feedback only.