MFC-J470DW
| | |
| --- | --- |
| | FAQs & Troubleshooting |
Date: 14/11/2018 ID: faq00002641_000
I am sharing my Brother machine. I can print but cannot scan.
NOTE: Illustrations shown below are from the representative product and may differ from your Brother machine.
Firstly please make sure your shared Brother machine is connected as follows:



Network Shared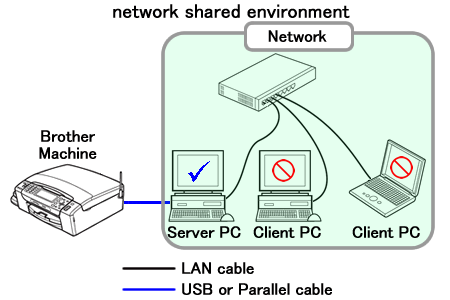 *The device is connected to a network and a central print queue is used to manage all print jobs.
In this kind of environment, it's possible to use both print and scan functions from a Server PC, but can print only from other Client PCs.

Scanning is possible only from the Brother machine connected directly to your PC.
To use other functions including scanning, we recommend you configure your Brother machine on the network as below:


Peer-to-Peer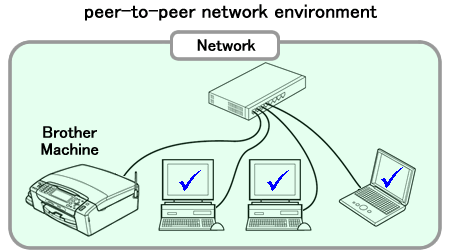 The functions available on the Peer-to-Peer connection vary depending on the machine. For details, we recommend you check the machine specification.
DCP-110C, DCP-1610W, DCP-540CN, DCP-560CN, DCP-585CW, DCP-6690CW, DCP-7010, DCP-7065DN, DCP-8020, DCP-8025D, DCP-8040, DCP-9040CN, DCP-9055CDN, DCP-J1050DW, DCP-J1100DW, DCP-J140W, DCP-J152W, DCP-J4110DW, DCP-J4120DW, DCP-L3551CDW, HL-L2380DW, MFC-1910W, MFC-210C, MFC-255CW, MFC-295CN, MFC-3240C, MFC-3820CN, MFC-410CN, MFC-425CN, MFC-440CN, MFC-465CN, MFC-490CW, MFC-5440CN, MFC-5840CN, MFC-5860CN, MFC-5890CN, MFC-620CN, MFC-640CW, MFC-6490CW, MFC-665CW, MFC-685CW, MFC-6890CDW, MFC-7220, MFC-7360N, MFC-7420, MFC-7440N, MFC-7820N, MFC-7840W, MFC-7860DW, MFC-790CW, MFC-795CW, MFC-8220, MFC-8370DN, MFC-8380DN, MFC-8440, MFC-8460N, MFC-8510DN, MFC-8820D, MFC-8840D, MFC-885CW, MFC-8860DN, MFC-8880DN, MFC-8890DW, MFC-8910DW, MFC-8950DW, MFC-9120CN, MFC-9140CDN, MFC-9320CW, MFC-9340CDW, MFC-9420CN, MFC-9440CN, MFC-9450CDN, MFC-9460CDN, MFC-9840CDW, MFC-990CW, MFC-9970CDW, MFC-J1010DW, MFC-J1300DW, MFC-J265W, MFC-J415W, MFC-J430W, MFC-J4340DW(XL), MFC-J4440DW, MFC-J4510DW, MFC-J4540DW(XL), MFC-J4620DW, MFC-J470DW, MFC-J4710DW, MFC-J480DW, MFC-J491DW, MFC-J5320DW, MFC-J5330DW, MFC-J5720DW, MFC-J5730DW, MFC-J5910DW, MFC-J5920DW, MFC-J5930DW, MFC-J5945DW, MFC-J615W, MFC-J625DW, MFC-J650DW, MFC-J6510DW, MFC-J6520DW, MFC-J6530DW, MFC-J6910DW, MFC-J6920DW, MFC-J6930DW, MFC-J6935DW, MFC-J6945DW, MFC-J825DW, MFC-J870DW, MFC-L2700DW, MFC-L2713DW, MFC-L2720DW, MFC-L2740DW, MFC-L2770DW, MFC-L3710CW, MFC-L3770CDW, MFC-L5755DW, MFC-L6700DW, MFC-L6900DW, MFC-L8690CDW, MFC-L8850CDW, MFC-L9550CDW, MFC-L9570CDW
If you need further assistance, please contact Brother customer service:
Content Feedback
To help us improve our support, please provide your feedback below.
Step 1: How does the information on this page help you?
Step 2: Are there any comments you would like to add?

Please note this form is used for feedback only.