QL-820NWB
| | |
| --- | --- |
| | FAQs & Troubleshooting |
Date: 10/04/2020 ID: faqp00100224_000
Print wirelessly from your AirPrint-compatible Apple device
AirPrint allows you to wirelessly print directly from your iPhone, iPad, iPod touch, Mac and other AirPrint compatible Apple devices on the same network.
There is no need to install a printer driver or software. You can print whenever your Apple mobile device is connected to the same network as your compatible printer.
You can also use AirPrint without any mobile application such as Brother iPrint&Label and Mobile Cable Label Tool.
To find whether your printer supports AirPrint, go to your model's top page and see if the following banner is displayed in the right navigation.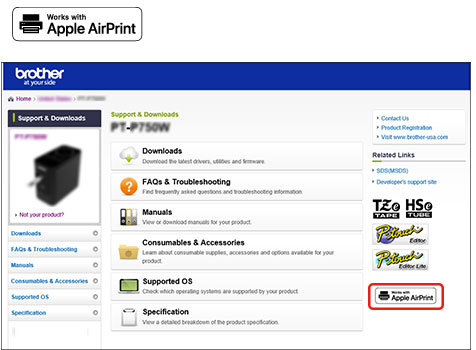 It may not be able to print an entire page shown in Safari or email body text on a single label.
How to print from iPad, iPhone and iPod touch
Make sure the printer is turned on and connected to wireless direct or Wi-Fi® network.


Connect the printer to your mobile device.

On your mobile device, tap [Settings] - [Wi-Fi] and slide the toggle button to activate the Wi-Fi function.
Select the printer from the list to establish the connection.

Open the page that you want to print.
Tap the action icon.

Tap [Print].

Select the printer.
Also select and change any desired printer options.

Tap [Print].
How to print from OS X v10.8 or later
You must add the printer to your Mac's printer list before you print.
Select [System Preferences] from the Apple Menu.
Click [Print & Scan] or [Printers & Scanners].
Click the [+] icon below the Printers pane on the left.
Click [Add Printer or Scanner]. The [Add] screen appears.
Select your printer, and then select [AirPrint] from the [Use] pop-up menu.
Click [Add].
Make sure the printer is turned on and connected to wireless direct, Wi-Fi network or USB.

Open the file you want to print on your Mac.

Click the [File] menu, and then select [Print].

Make sure your printer is selected.

Select any available options, such as the number of pages to print. (Options vary depending on the printer.)

Click [Print].
If your printer is not displayed in the printer list, turn the Wi-Fi settings of the printer and your device off and back on again. If the problem still occurs, refer to the following:
Is your printer connected to the network correctly?
If not, connect your printer to the network correctly.
Is your device connected to the network to which the printer is connected?
If not, connect your device to the network correctly.
Related FAQs
PJ-773, PT-P750W, QL-720NW, QL-820NWB, RJ-3150, RJ-4040, RJ-4250WB, TD-2120N, TD-2130N
If you need further assistance, please contact Brother customer service:
Content Feedback
To help us improve our support, please provide your feedback below.
Step 1: How does the information on this page help you?
Step 2: €Are there any comments you would like to add?

Please note this form is used for feedback only.