Innov-is 35P
| | |
| --- | --- |
| | FAQs & Troubleshooting |
Date: 24/09/2020 ID: faqh00000624_000
How to use the Pin Tuck Foot. (Optional accessory : SA179 / F058, F059, SA162 / F037N) [Video instructions]
The pin tuck foot, in combination with a twin needle, helps you to make perfect pin tucks as well as to sew corded pin tucks on shirts, blouses and many home decorating projects easily.
Video instructions for Pin Tuck Foot.
Click on the image to play the video instructions.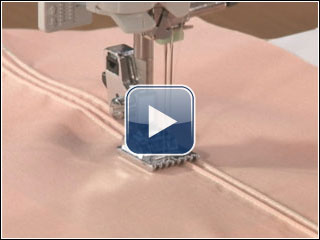 * This movie is being streamed from YouTube. (Opening new window.)
>> For details, please refer to the operation manual.

SA179 / F058 (7 grooves)

F059 (7 grooves (Metal))

SA162 / F037N (5 grooves)
AS2730S, BM-3500/2600, FS101, FS155, GS2700, GS2786K, GS3710, Innov-is 10, Innov-is 1500D/1500, Innov-is 15P, Innov-is 30, Innov-is 35P, Innov-is 400, Innov-is 4000D/4000, Innov-is 4500D, Innov-is 50, Innov-is 55P, Innov-is 900, Innov-is 950, Innov-is 955, Innov-is 980D, Innov-is 980K, Innov-is A150, Innov-is A80, Innov-is I / Innov-is 6000D, Innov-is Ie, Innov-is NV180, Innov-is NV1800Q, Innov-is NV180D, Innov-is NV180K, Innov-is NV2600, Innov-is V7, LS-2125/2160, LX27NT, QC-1000, XL-2120/2220/2230/2240, XL-2600/2620/2630, XL-5500, XL-5700
If you need further assistance, please contact Brother customer service:
Content Feedback
To help us improve our support, please provide your feedback below.
Step 1: How does the information on this page help you?
Step 2: €Are there any comments you would like to add?

Please note this form is used for feedback only.