PT-E850TKW
| | |
| --- | --- |
| | FAQs & Troubleshooting |
Date: 13/05/2020 ID: faqp00010540_001
How to insert a new image into each label using a database file. (P-touch Editor 5.x for Windows)
Load the Access file to P-touch Editor and print the file as described below.
In this example, we will use a database defined in Access as follows:
The "Image" field is an "OLE object" data type, and a bitmap file (.bmp) is inserted.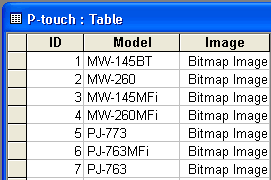 Start P-touch Editor, set the printer and media size, and then click [File] - [Database] - [Connect].

On the [Open Database] screen, select [Connect Database File], click [Browse], and locate the folder where the above Access file is saved.

Select the Access file and click [Next]. The Access data appears.
The "Image" (OLE object) field does not appear in P-touch Editor, but the file is correctly connected.


Click [Insert] - [Database Field]. (If [Insert] does not appear in the menu bar, click the area where the tape is shown.)


Select "Image" for "Merge Type" and then select the desired image. The image of the "Image" field appears.




Click [Insert] - [Database Field]. On the [Merge Fields] screen, select "Model" and then click [OK]. The "Model" field appears.




Click [File] - [Print] to print.

PJ-663, PJ-763MFi, PJ-773, PT-1650, PT-2430PC, PT-2700, PT-2730, PT-3600, PT-7600, PT-9500PC, PT-9800PCN, PT-D450, PT-D600, PT-E550W, PT-E850TKW, PT-P700, PT-P710BT, PT-P750W, PT-P900W, PT-P950NW, QL-550, QL-570, QL-700, QL-720NW, QL-800, QL-820NWB, RJ-3150, RJ-4030, RJ-4040, RJ-4230B, RJ-4250WB, TD-2120N, TD-2130N, TD-4000, TD-4410D, TD-4420DN
If you need further assistance, please contact Brother customer service:
Content Feedback
To help us improve our support, please provide your feedback below.
Step 1: How does the information on this page help you?
Step 2: €Are there any comments you would like to add?

Please note this form is used for feedback only.