DCP-8025D
| | |
| --- | --- |
| | FAQs & Troubleshooting |
Date: 08/11/2011 ID: faq00002434_000
Scan a document from the Windows Vista Photo Gallery
Refer to the steps below to learn how to scan from Photo Gallery.
Click on "Start" => "Photo Gallery".
Click "File"=> "Import from Camera or Scanner...".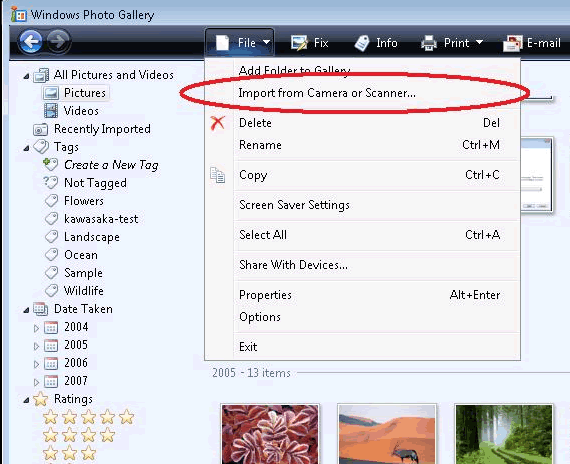 Select the scanner and click "Import".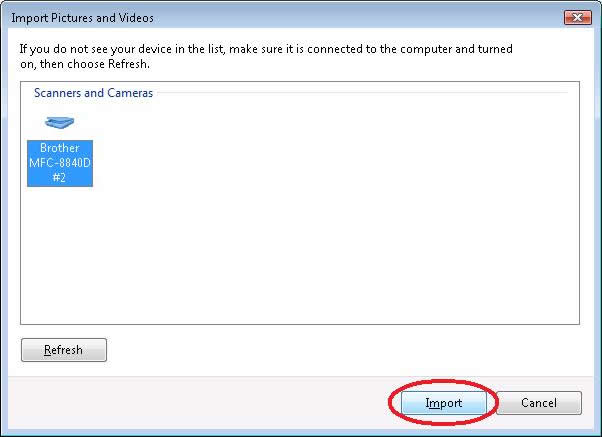 You will then see a screen shown below. Select your scan options and then click "Scan".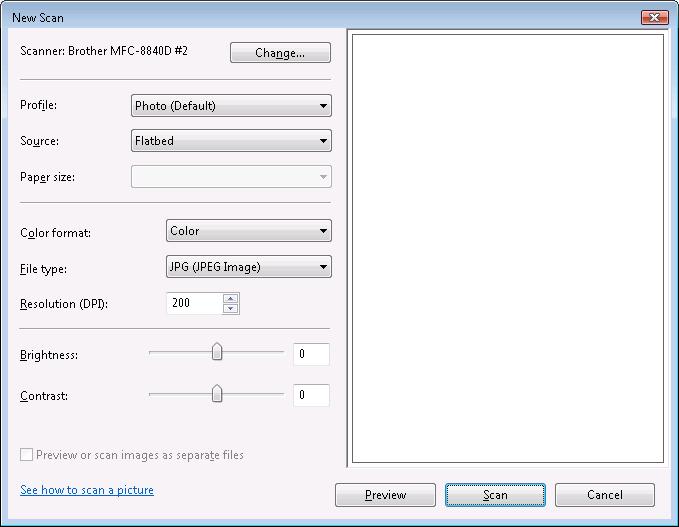 Enter any optional tag you want and then click "Import".
Tagging the picture will help you search for the files in the future.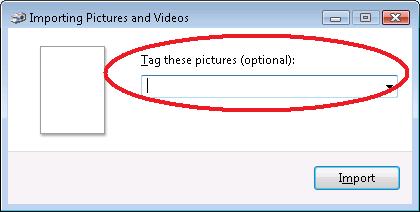 The scan will begin. Once it's completed, the scanned image will be saved in the
"Recently Imported" section.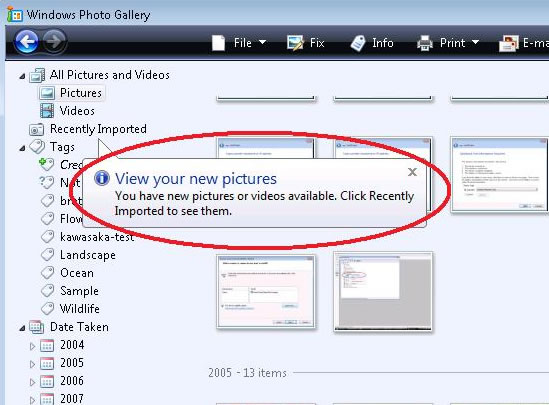 DCP-110C, DCP-115C, DCP-130C, DCP-135C, DCP-145C, DCP-150C, DCP-165C, DCP-185C, DCP-195C, DCP-330C, DCP-350C, DCP-385C, DCP-395CN, DCP-585CW, DCP-6690CW, DCP-7010, DCP-7030, DCP-8020, DCP-8025D, DCP-8040, DCP-8045D, DCP-9010CN, DCP-J100, DCP-J105, DCP-J125, DCP-J140W, DCP-T300, DCP-T500W, DCP-T700W, MFC-210C, MFC-215C, MFC-235C, MFC-240C, MFC-290C, MFC-295CN, MFC-3220C, MFC-3240C, MFC-3360C, MFC-3420C, MFC-3820CN, MFC-410CN, MFC-425CN, MFC-440CN, MFC-490CW, MFC-5440CN, MFC-5460CN, MFC-5840CN, MFC-5860CN, MFC-620CN, MFC-6490CW, MFC-665CW, MFC-685CW, MFC-7340, MFC-7420, MFC-7450, MFC-7820N, MFC-7840N, MFC-8220, MFC-8370DN, MFC-8440, MFC-8460N, MFC-8510DN, MFC-8820D, MFC-8840D, MFC-8840DN, MFC-8860DN, MFC-8880DN, MFC-8910DW, MFC-9120CN, MFC-9140CDN, MFC-9420CN, MFC-9660, MFC-J410, MFC-J415W, MFC-J430W, MFC-J5910DW, MFC-J615W, MFC-J625DW, MFC-J6710DW
If you need further assistance, please contact Brother customer service:
Content Feedback
To help us improve our support, please provide your feedback below.
Step 1: How does the information on this page help you?
Step 2: €Are there any comments you would like to add?

Please note this form is used for feedback only.