DCP-8025D
| | |
| --- | --- |
| | FAQs & Troubleshooting |
Date: 11/05/2012 ID: faq00000715_001
Scan a document from a Windows Vista application
Please follow the steps below to learn how to scan from applications such as Paint.


If you want to scan and save a document in PDF format, refer to the Related FAQs at the end of the page.
(This is only for ControlCenter Users. If you don't find the Related FAQs at the end of the page, that means this note is not applicable for your machine.)
Click on Start => All Program => Accessory => Paint.
Click File => From Scanner or Camera....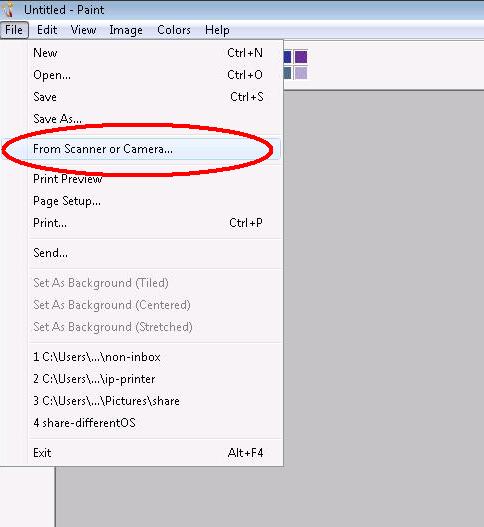 You will then see the screen shown below. There are a variety of options that you can change, for example, if you wish to change the resolution of the image, click Adjust the quality of the scanned picture.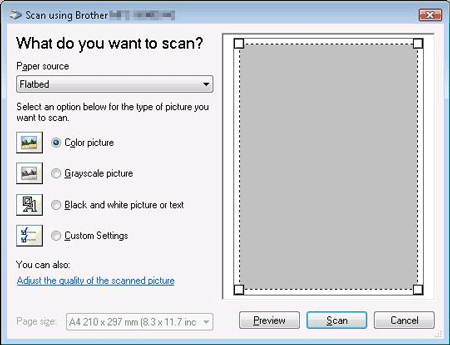 When you are happy with your choices, click Scan and the document will be scanned using the settings that you have chosen.
DCP-110C, DCP-115C, DCP-130C, DCP-135C, DCP-145C, DCP-150C, DCP-165C, DCP-185C, DCP-195C, DCP-330C, DCP-350C, DCP-385C, DCP-395CN, DCP-585CW, DCP-6690CW, DCP-7010, DCP-7030, DCP-8020, DCP-8025D, DCP-8040, DCP-8045D, DCP-9010CN, DCP-J100, DCP-J105, DCP-J125, DCP-J140W, DCP-L5600DN, DCP-T300, DCP-T500W, DCP-T700W, MFC-210C, MFC-215C, MFC-235C, MFC-240C, MFC-290C, MFC-295CN, MFC-3220C, MFC-3240C, MFC-3360C, MFC-3420C, MFC-3820CN, MFC-410CN, MFC-425CN, MFC-440CN, MFC-490CW, MFC-5440CN, MFC-5460CN, MFC-5840CN, MFC-5860CN, MFC-620CN, MFC-6490CW, MFC-665CW, MFC-685CW, MFC-7340, MFC-7420, MFC-7450, MFC-7820N, MFC-7840N, MFC-8220, MFC-8370DN, MFC-8440, MFC-8460N, MFC-8510DN, MFC-8820D, MFC-8840D, MFC-8840DN, MFC-8860DN, MFC-8880DN, MFC-8910DW, MFC-9120CN, MFC-9140CDN, MFC-9420CN, MFC-9660, MFC-J2320, MFC-J410, MFC-J415W, MFC-J430W, MFC-J5910DW, MFC-J615W, MFC-J625DW, MFC-J6710DW, MFC-L5900DW
If you need further assistance, please contact Brother customer service:
Content Feedback
To help us improve our support, please provide your feedback below.
Step 1: How does the information on this page help you?
Step 2: €Are there any comments you would like to add?

Please note this form is used for feedback only.