HL-3070CW
| | |
| --- | --- |
| | FAQs & Troubleshooting |
Date: 03.04.2015 ID: faq00000026_020
Clear paper jams
If paper jams inside the printer, the printer will stop. One of the following LCD messages will appear to tell you where to find the jammed paper.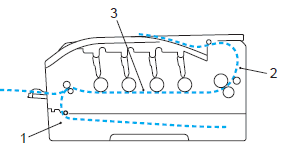 Check where the jam is and clear the jammed paper referring to appropriate FAQ below.
"Jam Tray 1" : Paper Jam in the standard paper tray (Tray 1). Click here to clear "JAM TRAY1".
"Jam Rear" : Paper jam where the paper comes out of the printer. Click here to clear "JAM REAR".
"Jam Inside" : Paper jam inside the printer. Click here to clear "JAM INSIDE".
If the error message still appears on the LCD after you remove the jammed paper, there may be more paper jammed somewhere else. Check the printer thoroughly. After you have removed all the jammed paper, open the front cover and then close it again to start printing.
Always remove all paper from the paper tray and straighten the stack when you add new paper. This helps prevent multiple sheets of paper from feeding through the printer at one time and prevents paper jams.
Related FAQs
If you need further assistance, please contact Brother customer service:
Content Feedback
To help us improve our support, please provide your feedback below.
Step 1: How does the information on this page help you?
Step 2: €Are there any comments you would like to add?

Please note this form is used for feedback only.