WD-360B
| | |
| --- | --- |
| | FAQs & Troubleshooting |
Date: 25/05/2017 ID: faqp00100202_001
How do I clean my AiRScouter?
Cleaning the lens
If the lens becomes smudged or dirty, you may not be able to clearly see the image on the Head Display.
If this occurs, clean the lens as described below.

Use a soft cloth for cleaning the lens. Never use ethanol, organic solvents, or organic chemicals.
Such substances could cause the lens coating to peel off the anti-reflection film, so that the image
will not be seen normally.

Use a soft cloth to wipe away dirt and dust from the lens.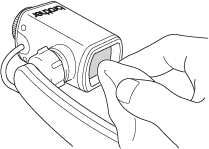 Cleaning the Head Band
If the Head Band pads become dirty, they can be wiped clean with a dry cloth. If this is insufficient to clean the pads,
they may be cleaned with ethanol, but take care to prevent any splashing onto the lens.


Cleaning the Control Box
Dirt and dust can be removed from the Control Box by wiping it clean with a dry cloth.
If this is insufficient, you can use a moistened cloth, but make sure that it is well wrung to minimise the risk of getting water
into the Control Box.
WD-350B, WD-360B, WD-370B
If you need further assistance, please contact Brother customer service:
Content Feedback
To help us improve our support, please provide your feedback below.
Step 1: How does the information on this page help you?
Step 2: €Are there any comments you would like to add?

Please note this form is used for feedback only.