HL-6180DW
| | |
| --- | --- |
| | FAQs & Troubleshooting |
Date: 11/05/2012 ID: faq00002194_000
What is Infrastructure mode?
Infrastructure mode is a wireless network framework that has a central WLAN access point / router at the heart of the network. In infrastructure mode, wireless devices communicate with each other through an WLAN access point/router. When the Brother wireless machine is part of infrastructure mode network, it receives all print jobs via an WLAN access point / router.

The WLAN access point / router can also act as a bridge or a gateway to a wired network, and wireless devices can communicate not only with each other but also with a wired network.


NOTE: Illustrations shown below are from a representative product and may differ from your Brother machine.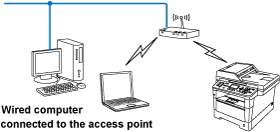 Related FAQs
ADS-2600W, DCP-340CW, DCP-373CW, DCP-375CW, DCP-377CW, DCP-585CW, DCP-6690CW, DCP-7055W, DCP-7055WR, DCP-7057WR, DCP-7070DW, DCP-7070DWR, DCP-750CW, DCP-770CW, DCP-J140W, DCP-J315W, DCP-J4110DW, DCP-J515W, DCP-J525W, DCP-J715W, DCP-J725DW, DCP-J925DW, HL-2135W, HL-2170W, HL-2170WR, HL-2270DW, HL-3070CW, HL-4070CDW, HL-4570CDW, HL-4570CDWT, HL-5280DW, HL-5370DW, HL-5450DN, HL-5450DNT, HL-5470DW, HL-6180DW, HL-6180DWT, MFC-255CW, MFC-257CW, MFC-490CW, MFC-5895CW, MFC-640CW, MFC-6490CW, MFC-6890CDW, MFC-7840W, MFC-7840WR, MFC-7860DW, MFC-7860DWR, MFC-790CW, MFC-795CW, MFC-820CW, MFC-845CW, MFC-885CW, MFC-8870DW, MFC-8890DW, MFC-8950DW, MFC-8950DWT, MFC-9320CW, MFC-9840CDW, MFC-990CW, MFC-9970CDW, MFC-J2310, MFC-J2510, MFC-J265W, MFC-J415W, MFC-J430W, MFC-J4410DW, MFC-J4510DW, MFC-J4610DW, MFC-J4710DW, MFC-J5910DW, MFC-J615W, MFC-J625DW, MFC-J6510DW, MFC-J6710DW, MFC-J6910DW, MFC-J825DW
If you need further assistance, please contact Brother customer service:
Content Feedback
To help us improve our support, please provide your feedback below.
Step 1: How does the information on this page help you?
Step 2: €Are there any comments you would like to add?

Please note this form is used for feedback only.