HL-2460
| | |
| --- | --- |
| | FAQs & Troubleshooting |
Date: 16/10/2006 ID: faq00002085_003
How do I print on labels, transparencies etc?
Special paper types to avoid are as follows:

Damaged, curled, wrinkled, or irregularly shaped paper

Before using paper with holes such as organizer sheets, you must fan the stack of paper well to avoid paper jams and misfeeds.

Do not use paper with perforations at the edge.

Do not place the punched holes of organizer sheets near the actuator (paper sensor).

Do not use organizer sheets that are stuck together. The glue on them might cause damage to the printer.

Do not load different types of paper at the same time in the paper cassette because it may cause paper jams or misfeeds.

For correct printing, you must select the same paper size from within your software application as the paper in the tray.

If your application software does not support paper size selection in its Print menu, you can change the paper size on the printer's control panel under the PAPER menu.
Please follow the instructions listed below:
Open the multi-purpose tray and lower it gently.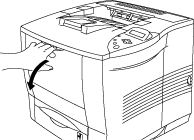 Pull out the multi-purpose extension flap.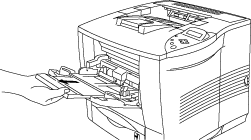 Open the face up output tray.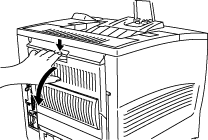 Pull out the face up output tray extension.
When you load paper in the multi-purpose tray, make sure it touches the back of the tray and remains below the limit mark.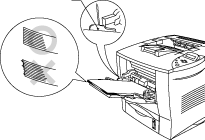 Make sure that the neatly stacked paper is correctly seated on the multi-purpose tray, otherwise paper may not be fed correctly, resulting in a skewed printout or a paper jam.
While pressing the paper guide release lever, slide the adjuster to fit the paper size.
Do not touch transparencies that have just been printed because they are very hot!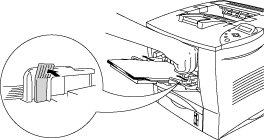 When printing, the inside tray automatically rises to feed paper into the printer.

The print surface must be face up.

The leading edge must be placed inside first so it rests lightly against the printer.

The top of the paper stack must be under the guides that are on both sides of the tray.
Select the following setting in the printer driver.
PCL driver: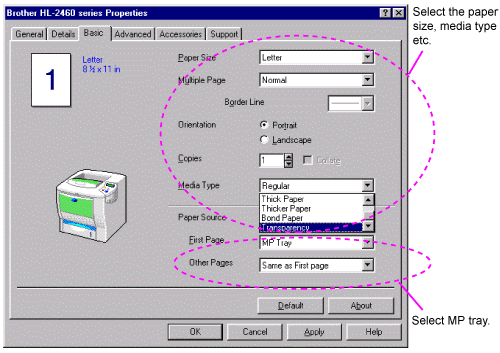 BR-Script driver: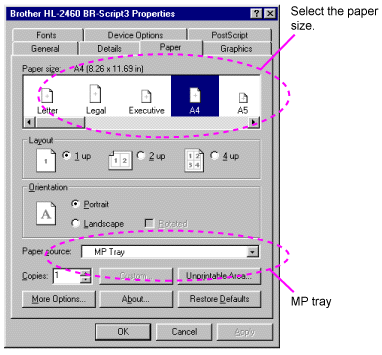 Related FAQs
If you need further assistance, please contact Brother customer service:
Content Feedback
To help us improve our support, please provide your feedback below.
Step 1: How does the information on this page help you?
Step 2: €Are there any comments you would like to add?

Please note this form is used for feedback only.