DCP-1612WE
| | |
| --- | --- |
| | FAQs & Troubleshooting |
Date: 24/03/2016 ID: faq00002081_005
When I install MFL-Pro Suite from the CD-ROM or Full Driver & Software Package from the "Downloads" section, the installation will not continue past the instruction to connect the USB cable to the computer.
This issue can occur if you were unsuccessful in an attempt to install the MFL-Pro Suite or Full Driver & Software Package and did NOT remove it from your computer before attempting the install again. It can also occur if you connected the USB cable before the software installation prompt appeared.
(Note: The illustration shown below is from a representative product and operating system, and may differ from your Brother machine and operating system.)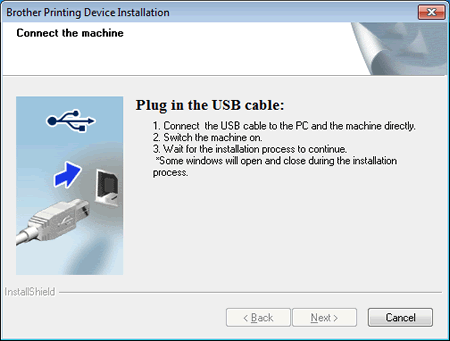 Check that the LCD is not indicating an error. If it is you will need to resolve this before installing the software.
Check that the cable is connected under the main cover in the correct socket marked with a USB symbol.

Some models have two ports on the back of the machine. Be sure to connect the USB port which is the lower port. Do not connect the USB cable to upper port which is the Ethernet port.

Verify the USB cable you are using meets the required specifications and connections listed below:

It is recommended that the USB cable an A/B device cable, and no longer than 1.8 meter. Although the connectivity may still be good with a longer cable, Brother suggests that the shorter the cable is, the better the rate of success will be.
Verify the USB cable is NOT USB to Parallel. If so, you must replace the cable.

If you are using a USB hub, disconnect the cable from the hub and connect it directly to the computer.

Do not connect the machine to a USB port on a keyboard or a non powered USB hub.

If a USB card was installed on the computer, remove the cable from the port attached to the card and connect the cable to the USB port that came with the computer.

If the cable you are using and the connection to your computer meets the requirements listed above and the installation does not resume continue to Step 4.

Disconnect the USB cable from your computer or Brother machine, and then reconnect it. If the installation does not resume, continue to Step 5.

Try connecting to a different port on the pc. If the installation does not resume, continue to Step 6.

The front USB ports on some PCs will not recognize the Brother machine. Try a port in the back or another available port if possible.

Try another identical USB cable. If the installation does not resume, continue to Step 7.

Use the "Uninstall Tool" to reactivate the Plug&Play on your computer and retry to install the software.

When you reinstall the Brother printer driver, verify you are logged on to the PC with Administrator rights.

Make sure that the Device Manager recognizes your Brother machine.

Open the Device Manager.

(Windows XP)
Click Start => Control Panel => Performance and Maintenance => System => Click Hardware tab => Click the Device Manager button.

(Windows Vista)
Click (Start) => Control Panel => System and Maintenance => System => Click Device Manager at the left side.

(Windows 7)
Click (Start) => Control Panel => Hardware and Sound => Click Device Manager under Devices and Printers section.

(Windows 8/ Windows 10)

Open the Control Panel. (Click here to see how to open the Control Panel.)
Click Hardware and Sound => Click Device Manager under Devices and Printers section.

When the User Account Control screen appears, do the followings.

For Users who have administrator rights: Click Continue or Yes.
Users who do not have administrator rights: Enter the administrator password and click OK or Yes.

Click Processor and check if AMD is shown under Processor.

If the AMD is shown, go to Step 8-c.

Choose View => Show hidden devices.

Click the triangle mark or + next to Other Devices.
Right click on the yellow mark with the Brother machine's name and choose Uninstall. Then close the Device Manager.

Disconnect the Brother machine and restart the computer.
After restarting the computer, retry to install the software.
We recommend using the USB 2.0 cable or the USB 2.0 port of your computer.
If the computer still does not detect the machine, contact Brother Customer Service from the "Contact Us" section.
DCP-145C, DCP-1510, DCP-1510E, DCP-1510R, DCP-1512, DCP-1512E, DCP-1512R, DCP-1602R, DCP-1610W, DCP-1610WE, DCP-1610WR, DCP-1612W, DCP-1612WE, DCP-1612WR, DCP-1622WE, DCP-1623WE, DCP-1623WR, DCP-163C, DCP-165C, DCP-167C, DCP-185C, DCP-195C, DCP-197C, DCP-365CN, DCP-373CW, DCP-375CW, DCP-377CW, DCP-383C, DCP-385C, DCP-387C, DCP-395CN, DCP-585CW, DCP-6690CW, DCP-7055, DCP-7055R, DCP-7055W, DCP-7055WR, DCP-7057, DCP-7057R, DCP-7057WR, DCP-7060D, DCP-7060DR, DCP-7065DN, DCP-7065DNR, DCP-7070DW, DCP-8070D, DCP-8085DN, DCP-8110DN, DCP-8250DN, DCP-9010CN, DCP-9015CDW, DCP-9017CDW, DCP-9020CDW, DCP-9022CDW, DCP-9055CDN, DCP-9270CDN, DCP-J100, DCP-J105, DCP-J125, DCP-J132W, DCP-J140W, DCP-J152W, DCP-J172W, DCP-J315W, DCP-J4110DW, DCP-J4120DW, DCP-J515W, DCP-J525W, DCP-J552DW, DCP-J715W, DCP-J725DW, DCP-J752DW, DCP-J925DW, DCP-L2500D, DCP-L2500DR, DCP-L2520DW, DCP-L2520DWR, DCP-L2540DN, DCP-L2540DNR, DCP-L2560DW, DCP-L2560DWR, DCP-L8400CDN, DCP-L8450CDW, DCP-T300, DCP-T500W, DCP-T700W, FAX-2940, FAX-2940R, HL-1110, HL-1110E, HL-1110R, HL-1112, HL-1112E, HL-1112R, HL-1202R, HL-1210W, HL-1210WE, HL-1210WR, HL-1212W, HL-1212WE, HL-1212WR, HL-1222WE, HL-1223WE, HL-1223WR, HL-2130, HL-2130R, HL-2132, HL-2132R, HL-2135W, HL-2240, HL-2240D, HL-2240DR, HL-2240R, HL-2250DN, HL-2250DNR, HL-2270DW, HL-3140CW, HL-3142CW, HL-3150CDW, HL-3152CDW, HL-3170CDW, HL-3172CDW, HL-4140CN, HL-4150CDN, HL-4570CDW, HL-4570CDWT, HL-5440D, HL-5450DN, HL-5450DNT, HL-5470DW, HL-6180DW, HL-6180DWT, HL-L2300D, HL-L2300DR, HL-L2340DW, HL-L2340DWR, HL-L2360DN, HL-L2360DNR, HL-L2365DW, HL-L2365DWR, HL-L8250CDN, HL-L8350CDW, HL-L9200CDWT, HL-L9300CDW(TT), HL-S7000DN, MFC-1810, MFC-1810E, MFC-1810R, MFC-1815R, MFC-1910W, MFC-1910WE, MFC-1912WR, MFC-250C, MFC-255CW, MFC-257CW, MFC-290C, MFC-295CN, MFC-297C, MFC-490CW, MFC-5490CN, MFC-5890CN, MFC-5895CW, MFC-6490CW, MFC-6890CDW, MFC-7360N, MFC-7360NR, MFC-7460DN, MFC-7860DW, MFC-790CW, MFC-795CW, MFC-8370DN, MFC-8380DN, MFC-8510DN, MFC-8520DN, MFC-8880DN, MFC-8890DW, MFC-8950DW, MFC-8950DWT, MFC-9120CN, MFC-9140CDN, MFC-9142CDN, MFC-9320CW, MFC-9330CDW, MFC-9332CDW, MFC-9340CDW, MFC-9342CDW, MFC-9460CDN, MFC-9465CDN, MFC-990CW, MFC-9970CDW, MFC-J200, MFC-J220, MFC-J2310, MFC-J2320, MFC-J245, MFC-J2510, MFC-J265W, MFC-J2720, MFC-J410, MFC-J415W, MFC-J430W, MFC-J4410DW, MFC-J4420DW, MFC-J4510DW, MFC-J4610DW, MFC-J4620DW, MFC-J4625DW, MFC-J470DW, MFC-J4710DW, MFC-J5320DW, MFC-J5620DW, MFC-J5625DW, MFC-J5720DW, MFC-J5910DW, MFC-J5920DW, MFC-J615W, MFC-J625DW, MFC-J650DW, MFC-J6510DW, MFC-J6710DW, MFC-J6910DW, MFC-J825DW, MFC-J870DW, MFC-L2700DN, MFC-L2700DNR, MFC-L2700DW, MFC-L2700DWR, MFC-L2720DW, MFC-L2720DWR, MFC-L2740DW, MFC-L2740DWR, MFC-L8650CDW, MFC-L8850CDW, MFC-L9550CDW(T)
If you need further assistance, please contact Brother customer service:
Content Feedback
To help us improve our support, please provide your feedback below.
Step 1: How does the information on this page help you?
Step 2: €Are there any comments you would like to add?

Please note this form is used for feedback only.