QL-810W/810Wc
| | |
| --- | --- |
| | Veelgestelde vragen en probleemoplossing |
Datum: 12/06/2023 Nummer: faqp00010540_001
How to insert a new image into each label using a database file. (P-touch Editor 5.x for Windows)
For TD-4T/TJ-4T series:
To use P-touch Editor, download and install "Printer Driver for P-touch Editor" from the [Downloads] section of this website.
Load the Access file to P-touch Editor and print the file as described below.
In this example, we will use a database defined in Access as follows:
The "Image" field is an "OLE object" data type, and a bitmap file (.bmp) is inserted.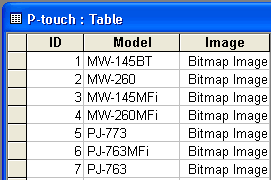 Start P-touch Editor, set the printer and media size, and then click [File] - [Database] - [Connect].

On the [Open Database] screen, select [Connect Database File], click [Browse], and locate the folder where the above Access file is saved.

Select the Access file and click [Next]. The Access data appears.
The "Image" (OLE object) field does not appear in P-touch Editor, but the file is correctly connected.


Click [Insert] - [Database Field]. (If [Insert] does not appear in the menu bar, click the area where the tape is shown.)


Select "Image" for "Merge Type" and then select the desired image. The image of the "Image" field appears.




Click [Insert] - [Database Field]. On the [Merge Fields] screen, select "Model" and then click [OK]. The "Model" field appears.




Click [File] - [Print] to print.

MW-100, MW-120, MW-140BT, MW-145BT, MW-260, PJ-623, PJ-663, PJ-722, PJ-723, PJ-762, PJ-763, PJ-763MFi, PJ-773, PJ-822, PJ-823, PJ-862, PJ-863, PJ-883, PT-1230PC, PT-18R, PT-1950, PT-2100, PT-2430PC, PT-2700, PT-2730, PT-3600, PT-7600, PT-9500PC, PT-9600, PT-9800PCN, PT-D450, PT-D600, PT-D800W, PT-E550W, PT-H500, PT-P700, PT-P710BT, PT-P750W, PT-P900W/P900Wc, PT-P950NW, QL-1050, QL-1050N, QL-1060N, QL-1100/1100c, QL-1110NWB/1110NWBc, QL-500, QL-500A, QL-550, QL-560, QL-570, QL-580N, QL-600, QL-650TD, QL-700, QL-710W, QL-720NW, QL-800, QL-810W/810Wc, QL-820NWB/820NWBc, RJ-2030, RJ-2050, RJ-2140, RJ-2150, RJ-3050, RJ-3150, RJ-3230B, RJ-3250WB, RJ-4030, RJ-4040, RJ-4230B, RJ-4250WB, TD-2020/2020A, TD-2120N, TD-2125N, TD-2125NWB, TD-2130N, TD-2135N, TD-2135NWB, TD-4000, TD-4100N, TD-4210D, TD-4410D, TD-4420DN, TD-4420TN, TD-4520DN, TD-4520TN, TD-4550DNWB, TD-4650TNWB, TD-4650TNWBR, TD-4750TNWB, TD-4750TNWBR, TJ-4005DN, TJ-4020TN, TJ-4021TN, TJ-4021TNR, TJ-4120TN, TJ-4121TN, TJ-4121TNR, TJ-4420TN, TJ-4422TN, TJ-4520TN, TJ-4522TN, TP-M5000N, VM-100
Neem contact op met de Brother-klantenservice als u nog meer hulp nodig hebt:
Feedback
Geef hieronder uw feedback. Aan de hand daarvan kunnen wij onze ondersteuning verder verbeteren.
Stap 1: is de informatie op deze pagina nuttig voor u?
Stap 2: wilt u nog iets toevoegen?

Dit formulier is alleen bedoeld voor feedback.