MFC-J5730DW
| | |
| --- | --- |
| | FAQs & Troubleshooting |
Date: 24/03/2016 ID: faq00002075_001
When I install the drivers, Norton AntiVirus displays a Security Alert that a medium risk application "xxxxx.exe is attempting to connect to a DNS server".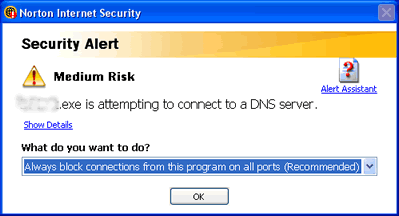 The name of the application file (xxxxx.exe) displayed on an alert window is a Microsoft® file necessary for the driver installation. The file name "xxxxx" will vary depending on how you are installing the driver. It can be "_is*.exe" (* is a variable), "Setup.exe" or "DPInst.exe".
Select Always block connections from this program on all ports (Recommended) and click OK.
DCP-135C, DCP-145C, DCP-150C, DCP-165C, DCP-185C, DCP-195C, DCP-350C, DCP-375CW, DCP-385C, DCP-395CN, DCP-560CN, DCP-585CW, DCP-6690CW, DCP-7040, DCP-7055, DCP-7060D, DCP-7065DN, DCP-8155DN, DCP-9010CN, DCP-9015CDW, DCP-9040CN, DCP-9042CDN, DCP-9055CDN, DCP-J1100DW, DCP-J125, DCP-J140W, DCP-J152W, DCP-J172W, DCP-J315W, DCP-J4110DW, DCP-J4120DW, DCP-J515W, DCP-J525W, DCP-J552DW, DCP-J562DW, DCP-J715W, DCP-J725DW, DCP-J752DW, DCP-J925DW, DCP-L3510CDW, FAX-2840, FAX-2950, HL-5450DN, HL-5470DW, HL-6180DW, HL-L2380DW, HL-L2395DW, HL-S7000DN, MFC-235C, MFC-250C, MFC-255CW, MFC-257CW, MFC-260C, MFC-290C, MFC-295CN, MFC-465CN, MFC-490CW, MFC-5490CN, MFC-5890CN, MFC-6490CW, MFC-685CW, MFC-6890CDW, MFC-7240, MFC-7340, MFC-7360N, MFC-7362N, MFC-7440N, MFC-7460DN, MFC-7840W, MFC-7860DW, MFC-790CW, MFC-795CW, MFC-8370DN, MFC-8510DN, MFC-885CW, MFC-8880DN, MFC-8890DW, MFC-8910DW, MFC-8950DW, MFC-9120CN, MFC-9125CN, MFC-9140CDN, MFC-9320CW, MFC-9325CW, MFC-9330CDW, MFC-9335CDW, MFC-9340CDW, MFC-9440CN, MFC-9450CDN, MFC-9460CDN, MFC-9840CDW, MFC-990CW, MFC-9970CDW, MFC-J1300DW, MFC-J220, MFC-J245, MFC-J265W, MFC-J410, MFC-J415W, MFC-J430W, MFC-J432W, MFC-J4410DW, MFC-J4510DW, MFC-J4620DW, MFC-J470DW, MFC-J4710DW, MFC-J475DW, MFC-J480DW, MFC-J491DW, MFC-J5320DW, MFC-J5330DW, MFC-J5720DW, MFC-J5730DW, MFC-J5845DW, MFC-J5910DW, MFC-J5920DW, MFC-J5930DW, MFC-J5945DW, MFC-J615W, MFC-J625DW, MFC-J650DW, MFC-J6510DW, MFC-J6530DW, MFC-J6545DW, MFC-J6710DW, MFC-J6730DW, MFC-J680DW, MFC-J6910DW, MFC-J6930DW, MFC-J6935DW, MFC-J6945DW, MFC-J825DW, MFC-J870DW, MFC-J880DW, MFC-J890DW, MFC-L2700DW, MFC-L2703DW, MFC-L2710DW, MFC-L2713DW, MFC-L2720DW, MFC-L2730DW, MFC-L2740DW, MFC-L2750DW, MFC-L3745CDW, MFC-L3750CDW, MFC-L3770CDW, MFC-L8600CDW, MFC-L8690CDW, MFC-L8850CDW, MFC-L8900CDW, MFC-L9550CDW, MFC-L9570CDW
If you need further assistance, please contact Brother customer service:
Content Feedback
To help us improve our support, please provide your feedback below.
Step 1: How does the information on this page help you?
Step 2: €Are there any comments you would like to add?

Please note this form is used for feedback only.