TD-4420DN
| | |
| --- | --- |
| | FAQs & Troubleshooting |
Date: 27/10/2020 ID: faqp00100062_004
How do I print labels distributed to multiple printers?
This function is only for Windows.
When printing a large number of labels, printing can be distributed among multiple printers.
Since printing is performed at the same time, the total printing time can be reduced.
The Distributed Printing function can only be used with printers of the same model number.
Printing can be distributed to printers connected via a USB or network (network models only).
The number of pages is automatically divided among the selected printers. If the specified number of pages cannot be evenly divided among the printers, it will be divided in the order of the printers listed in the dialog box when the print settings are specified in step 4.
It may not be possible to detect information for a printer connected via a USB hub or print server. Before printing, enter the settings manually, and check if the printer can be used for printing.
(TD-4420DN/TD-4520DN/TD-4550DNWB only) Depending on whether a router is used and the security features in use, such as a firewall, it may not be possible to use this function.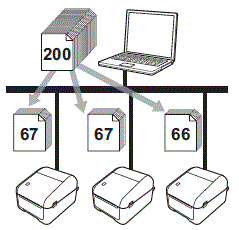 From the [File] menu in P-touch Editor, click [Print].


Click [Properties…].


Click the [Advanced] tab, select the [Distributed Printing] check box, and then click [Settings].



In the [Distributed Printing Settings] dialog box, select the check box beside the [Printer Name] to be used for distributed printing.

Right-click the selected printer or printers, and then click [Settings]. From the [Paper Size] drop-down list, select the label size.
If multiple printers have been selected, the same label size setting is applied to all selected printers.

Click [OK] to close the label size setting window.


Click [OK] to close the [Distributed Printing Settings] window.


Click [OK] to close the [Properties…] window.
Setup is completed.


Click [Print] in P-touch Editor to start distributed printing.

We recommend performing a connection test for your operating environment. For more information, contact a sales representative.
If you need further assistance, please contact Brother customer service:
Content Feedback
To help us improve our support, please provide your feedback below.
Step 1: How does the information on this page help you?
Step 2: €Are there any comments you would like to add?

Please note this form is used for feedback only.