MFC-885CW
| | |
| --- | --- |
| | FAQs & Troubleshooting |
Date: 03/06/2010 ID: faq00002681_000
How do I know which side up my photo paper should be in the tray?
Inside the paper tray you will see the sticker like an image shown below.
The lines on the corner of the symbol (surrounded by a red border in the image) show that this is the side that the photo will print onto, and therefore it should be face down.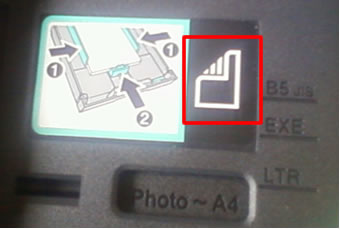 DCP-130C, DCP-135C, DCP-145C, DCP-150C, DCP-155C, DCP-165C, DCP-185C, DCP-195C, DCP-330C, DCP-350C, DCP-375CW, DCP-385C, DCP-395CN, DCP-540CN, DCP-560CN, DCP-585CW, DCP-6690CW, DCP-J100, DCP-J105, DCP-J125, DCP-J140W, DCP-J152W, DCP-J172W, DCP-J315W, DCP-J515W, DCP-J525W, DCP-J552DW, DCP-J715W, DCP-J725DW, DCP-J752DW, DCP-J925DW, DCP-T300, DCP-T500W, DCP-T700W, FAX-2480C, MFC-230C, MFC-235C, MFC-240C, MFC-250C, MFC-255CW, MFC-257CW, MFC-260C, MFC-265C, MFC-290C, MFC-295CN, MFC-3360C, MFC-440CN, MFC-465CN, MFC-490CW, MFC-5460CN, MFC-5490CN, MFC-5860CN, MFC-5890CN, MFC-6490CW, MFC-665CW, MFC-685CW, MFC-6890CDW, MFC-790CW, MFC-795CW, MFC-885CW, MFC-990CW, MFC-J200, MFC-J220, MFC-J245, MFC-J265W, MFC-J410, MFC-J415W, MFC-J430W, MFC-J432W, MFC-J470DW, MFC-J475DW, MFC-J5910DW, MFC-J615W, MFC-J625DW, MFC-J650DW, MFC-J6510DW, MFC-J6710DW, MFC-J6910DW, MFC-J825DW, MFC-J870DW, MFC-T800W
If you need further assistance, please contact Brother customer service:
Content Feedback
To help us improve our support, please provide your feedback below.
Step 1: How does the information on this page help you?
Step 2: €Are there any comments you would like to add?

Please note this form is used for feedback only.