FAX-878
| | |
| --- | --- |
| | FAQs & Troubleshooting |
Date: 26/09/2008 ID: faq00000547_003
How do I set up a answering machine (TAD) to work on the same line as the fax?
When you have an external telephone answering device (TAD) on the same telephone line as the fax machine, the TAD answers all calls and the fax machine "listens" for fax calling (CNG) tones. If it hears them, the fax machine takes over the call and receives the fax. If it doesn't hear CNG tones, the fax machine lets the TAD continue playing your outgoing message so your caller can leave you a voice message.
The TAD must answer within four rings (the recommended setting is two rings). The fax machine cannot hear CNG tones until the TAD has answered the call, and with four rings there are only 8 to 10 seconds of CNG tones left for the fax "handshake". Make sure you carefully follow the instructions below for recording your outgoing message. We do not recommend using the toll saver feature on your external answering machine if it exceeds four rings.
If you do not receive all your faxes, you must reset the setting on your external TAD to four rings or less.
Do not connect a TAD elsewhere on the same phone line.
Before you connect the external telephone answering machine, remove the protective film form the EXT. jack on the machine.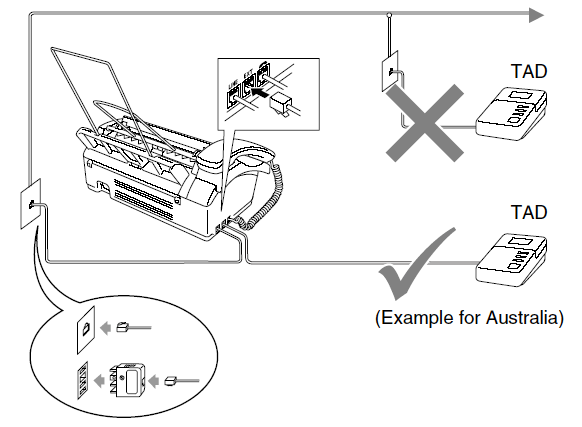 Connections
The external TAD must be connected as shown above.
Set your external TAD to one or two rings. (The fax machine's Ring Delay setting does not apply.)
Record the outgoing message on your external TAD.
When recording your outgoing message on an external TAD, timing is important. The message sets up the ways to handle both manual and automatic fax reception.
Record 5 seconds of silence a the beginning of your message. (This allows the fax machine time to listen for he fax CNG tones of automatic transmissions before they stop.)
Limit your speaking to 20 seconds.
Set the TAD to answer calls.
Set the Receive Mode to
TAD: ANSWER MACH..
If you need further assistance, please contact Brother customer service:
Content Feedback
To help us improve our support, please provide your feedback below.
Step 1: How does the information on this page help you?
Step 2: €Are there any comments you would like to add?

Please note this form is used for feedback only.