MFC-9330CDW
| | |
| --- | --- |
| | FAQs & Troubleshooting |
Date: 25/03/2016 ID: faq00002968_000
A margin appears on the right side of the scanned document when using the Brother iPrint&Scan application on my Android™ mobile device.
The cause of this situation is the Scan Settings within the Brother iPrint&Scan application.

If the Scan Settings are set as "Scan Type: Color(Fast)" and "Document size: 3.5" x 5" (9 x 13 cm)", a margin will appear on the right side of the scanned document.

To solve this problem, change the Scan Type from Color(Fast) to Color and try scanning again.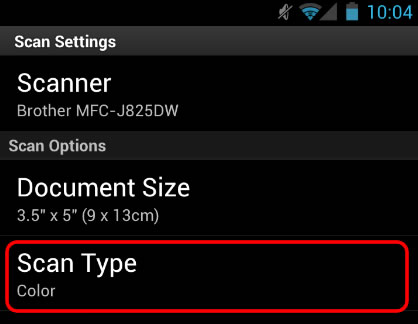 DCP-1610W, DCP-375CW, DCP-395CN, DCP-585CW, DCP-6690CW, DCP-8065DN, DCP-8085DN, DCP-8110DN, DCP-8155DN, DCP-9010CN, DCP-9040CN, DCP-9042CDN, DCP-J105, DCP-J315W, DCP-J515W, DCP-J525W, DCP-J715W, DCP-J725DW, DCP-J925DW, DCP-L2540DW, DCP-L2550DW, DCP-T500W, DCP-T510W, DCP-T700W, DCP-T710W, MFC-1910W, MFC-1915W, MFC-255CW, MFC-295CN, MFC-490CW, MFC-5490CN, MFC-5890CN, MFC-6490CW, MFC-7840N, MFC-7840W, MFC-7860DW, MFC-790CW, MFC-795CW, MFC-8370DN, MFC-8380DN, MFC-8460N, MFC-8480DN, MFC-8510DN, MFC-8860DN, MFC-8880DN, MFC-8890DW, MFC-8910DW, MFC-9010CN, MFC-9120CN, MFC-9140CDN, MFC-9320CW, MFC-9330CDW, MFC-9440CN, MFC-9450CDN, MFC-9460CDN, MFC-9840CDW, MFC-990CW, MFC-9970CDW, MFC-J200, MFC-J2320, MFC-J2330DW, MFC-J2510, MFC-J265W, MFC-J2720, MFC-J3520, MFC-J3530DW, MFC-J3720, MFC-J3930DW, MFC-J415W, MFC-J430W, MFC-J5910DW, MFC-J615W, MFC-J625DW, MFC-J650DW, MFC-J6510DW, MFC-J6710DW, MFC-J6910DW, MFC-J825DW, MFC-J870DW, MFC-L2700DW, MFC-L2715DW, MFC-L2740DW, MFC-L2750DW, MFC-L5755DW, MFC-L5900DW, MFC-L6900DW, MFC-L8600CDW, MFC-L8690CDW, MFC-L8850CDW, MFC-L9570CDW, MFC-T4500DW, MFC-T800W, MFC-T910DW
If you need further assistance, please contact Brother customer service:
Content Feedback
To help us improve our support, please provide your feedback below.
Step 1: How does the information on this page help you?
Step 2: €Are there any comments you would like to add?

Please note this form is used for feedback only.