Additional explanations of the machine's built-in color thread table and the custom thread table are provided below.
Normally, the thread colors in the thread color sequence display and in the pattern display area are displayed in the colors of the machine's builtin color thread table. The thread color numbers with these thread colors are displayed with the thread color number (or the nearest number) for the brand specified on the first page of the settings screen. Therefore, the finished embroidery colors may have a slightly different tinge.
However, since the custom thread table specified on the change thread color screen in the pattern editing screen is created by specifying thread colors by the thread color numbers and color names from individual brands in the machine's built-in color library, the thread table is displayed with those original thread colors.
If pattern colors changed using custom thread table, pattern can be previewed with colors nearest to the actual embroidered thread colors.
Create color thread tables from the colors of threads that you have and use them to display the patterns in your own thread colors. Remember to save your Custom Thread Table before you create a new one.
Normal thread color display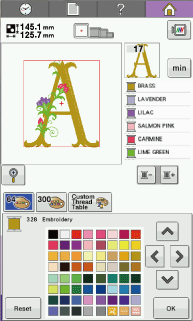 Thread color display using a custom thread