How to use the Walking Foot. (Optional accessory : SA140 / F033N, SA107 / F034N, SA169 / F050N, SA188 / F062, SA132 / F016N) [Video instructions]
For improved results when sewing or quilting on fabrics which tend to stick to the bottom of a presser foot or sheer fabrics that are difficult to control. A walking foot assists in keeping the lines matched on multiple layers of plaid fabrics.
Video instructions for Walking Foot.
Click on the image to play the video instructions.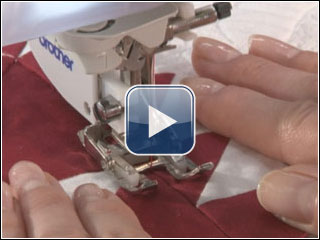 * This movie is being streamed from YouTube.(Opening new window.)
>> For details, please refer to the operation manual.

SA140 / F033N

SA107 / F034N

SA169 / F050N

SA188 / F062N (Open Toe Walking Foot)

SA132 / F016N (Quilting Guide)