If the envelope flaps are on the long edge, load the envelopes with the flap on the left, as shown in the illustration. Gently press and slide the paper width guides (1) and paper length guide (2) to fit the size of the envelopes.
Make sure the envelopes are flat in the tray.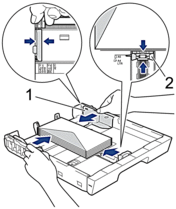 IMPORTANT

If envelopes are "double-feeding," load one envelope in the paper tray at a time.