I cannot print from my computer via network. (For Windows)
Step 1: Check the connection
Verify that the LAN cable and the power cord of the Brother machine are connected. If the power cord is connected to a surge protector or power switch, remove the cord from the device and connect it directly to the outlet.

Verify that the Brother machine and your computer are connected by a Peer-to-Peer environment. There is no central server controlling file access or printer sharing.




Verify that the Link light of the router or the hub is ON.
Step 2.Restart the router or hub
Try restarting the router or hub.

Step 3.Check the Firewall setting
If a Firewall on your computer is active, it may be rejecting the necessary network connection. Disable the Firewall on your computer and try re-installing the drivers.
Temporarily change your firewall/security settings to allow network connection

Your computer's firewall/security software may be preventing the network connection from being established. If you receive firewall-related notifications, we recommend temporarily changing the security settings on your computer to establish the connection.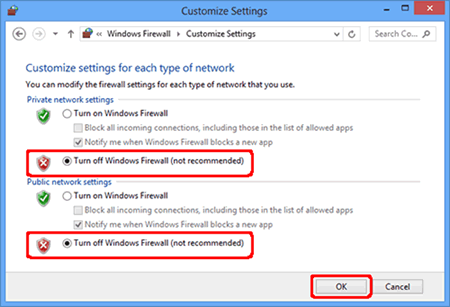 IMPORTANT
Before disabling the firewall, make sure the changes you want to make are suitable for your network. Brother will not take any responsibility for any consequences of disabling the firewall.
When finished, make sure to turn the firewall on again.
Step 4. Download and run the Network Connection Repair Tool
Brother has designed a utility to assist in restoring printing capability with minimal user interaction. This utility will automatically locate and update your Brother machine's IP address within your printer driver which will restore your printing ability.
>Click here to go to the Downloads section to get the Network Connection Repair Tool.

If you still have problems after changing the Firewall settings, please contact Brother Customer Service from "Contact Us".