Avoid using the following paper types as they can cause paper jams or damage the printer.
Transparency sheets other than those recommended.
Inkjet paper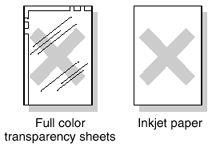 Paper that is too thick or too thin
Paper with a face preprinted with another printer or copier, or paper preprinted with ink
Folded, creased, or torn paper
Damp or wet paper
Curled or warped paper

Sheets affected by static electricity
Layered or adhesive paper
Specially coated paper
Colored paper with a treated surface
Paper printed with ink that cannot withstand temperatures of 155°C (311°F).
Heat-sensitive paper
Carbon paper
Paper with a rough surface such as textured or fiber form paper
Acidic paper that can cause the characters to fade over time. Use neutral paper.
Envelopes with a rough surface or clips attached
Paper with staples, paper clips, tape, or ribbons attached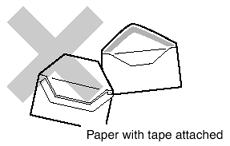 Envelopes with sticky adhesive
Label sheets where the backing is visible or is precut.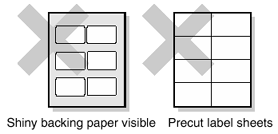 T-shirt transfer paper (Heat press use)
Transfer paper (cold water use)
Digital coated glossy paper
Label film (transparent, colorless)
Perforated paper